With its sprawling countryside, ancient ruins, and stunning beaches, mainland Greece is bursting with contrasting landscapes and hidden gems. Whether you choose to languish on the coast or dive into Greece's rich history, there is a little something to suit all tastes here. 
While the Greek islands have so much to offer holidaymakers, it's only when you step onto the mainland that you can truly appreciate Greece's geographical and cultural diversity. In the bustling cosmopolitan cities, past meets present on every corner, while the rugged Pelion Peninsula and idyllic Parga show off the country's natural beauty in all its glory. 
Get ready to discover and fall in love with a Greece you never knew existed. From its colourful cities and ancient treasures to its natural beauty and culinary treats, the mainland offers a wildly diverse mix of activities, adventures, and memories.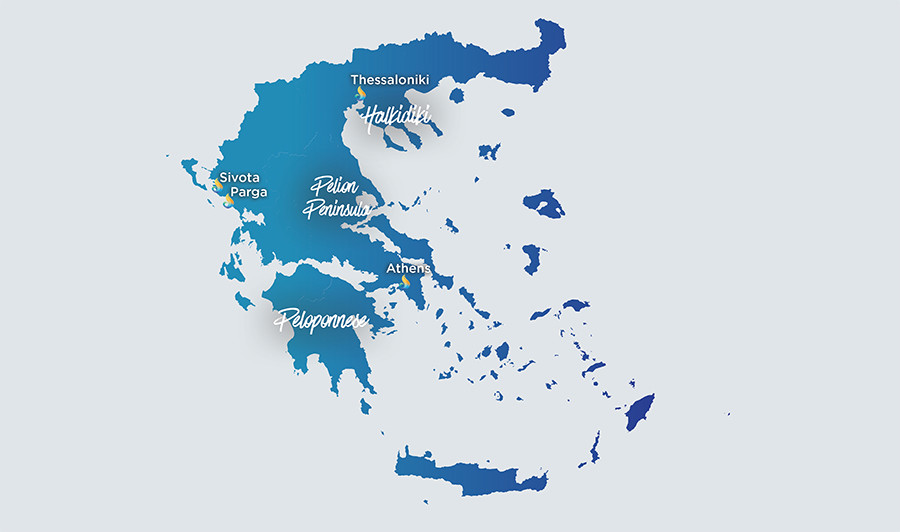 No holiday in mainland Greece is truly complete without a trip to its capital city, Athens. This ancient metropolis is a veritable time capsule of wonders that will fulfil your thirst for knowledge and fill your camera roll to the brim. The oldest capital city in Europe, Athens will charm you with its ancient history and urban beauty. 
Whether you choose to spend just a day in Athens or devote a week to exploring this vast and iconic city, the memories will last a lifetime. Start your Athens adventure with a visit to the city's numerous historic monuments. You're spoilt for choice here. From the Parthenon and Acropolis to the Ancient Agora, you'll never be short of photo opportunities. 
Night falls late in Athens, and the stylish bars and restaurants welcome guests well into the early hours. There's plenty to whet your appetite and tantalise your tastebuds here with salty cheeses, juicy meat dishes, and full-bodied wine in abundance. 
Combine Athens with the islands of Andros and Mykonos on our Aegean Adventure Island Hopping Holiday. Or alternatively combine with Poros and Spetses on our Authentic Greece Itinerary.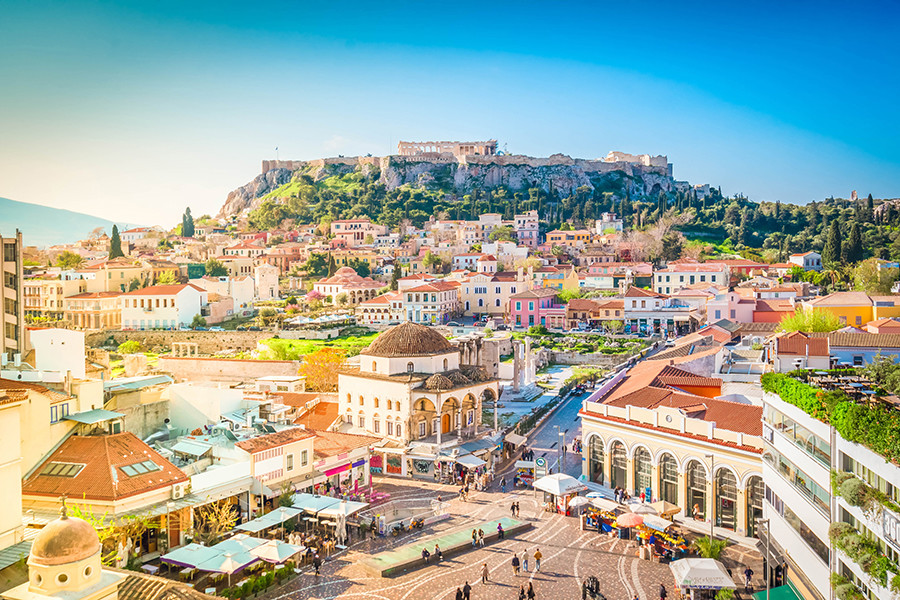 When all of that sightseeing leaves you pining for some relaxation, it's time to head to the upmarket beaches and laidback ambience of the Athens Riviera. Here you can take it as easy as you please, whether that's lazing on the beach or taking a stroll around the elegant boutiques in Glyfada. 
In the summer, Athenians escape the city to make the hour's journey to the coast. The 50-kilometre stretch of chic seafront towns and pristine coastline gives this stunning corner of mainland Greece an island vibe. From its swish restaurants and smattering of harbours and ports to the world-renowned Temple of Poseidon, you can choose to spend your time sightseeing, island hopping, or simply people-watching.
While there are plenty of secluded coves to explore, it's the organised beaches that really give the Riviera its glitzy crowd appeal. Pay a visit to Akti Vouliagmeni, a private beach and lawn club with sun loungers, a children's play area, tennis, and a bar.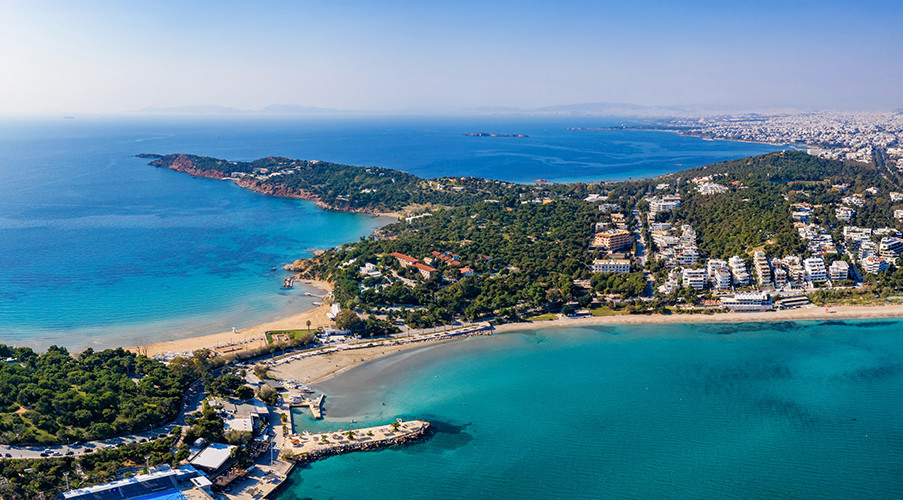 With its striking coastline and crystalline sea, the Halkidiki peninsula should be on every Greek mainland itinerary. Shaped like Poseidon's trident, this beautiful forested cape offers three legs or rather prongs to explore: Kassandra, Sithonia, and Mount Athos. Together, these regions offer over 500 kilometres of beaches, each with its own unique character and charm. With its 40 Blue-Flag beaches, sleepy fishing villages, and many points of historical interest, it's easy to see why Halkidiki is becoming more popular with travellers. 
If it's sunbathing, bar-hopping and vibrant nightlife you're after, Kassandra is the liveliest and most popular area in the peninsula. Boasting glorious white-sand beaches and a good selection of bars, hotels, and tavernas, Kassandra is a hit with younger crowds especially. For nature lovers and families, Sithonia offers a much slower and more peaceful way of life. With miles of unspoilt coastline and shaded coves, it's the most beautiful of the three legs. Feast on the catch-of-the-day on the waterfront, spend a lazy day on a deserted beach or explore the romantic coves in a hired boat. If it's historical interest you are after, book a day trip to Mount Athos. This protected World-Heritage site is home to 40 monasteries and offers a fascinating insight into Greece's monastic communities. 
Halkidiki, while slowly becoming more popular, still enjoys a fair degree of anonymity. If you're looking for a taste of the real Greece at its most scenic and offbeat, a visit to this stunning peninsular region is well worth the trip.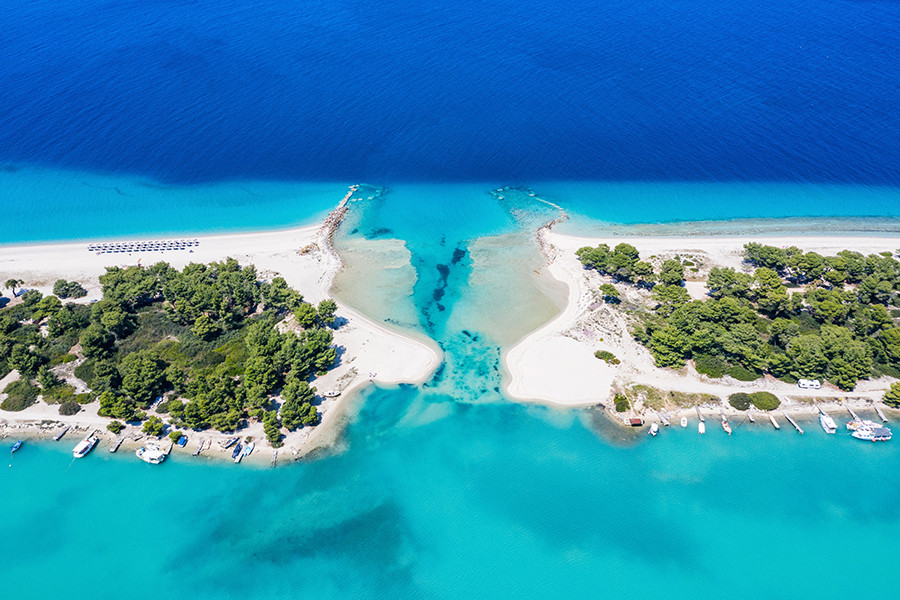 North Peloponnese, a large peninsula situated on the southern tip of mainland Greece, offers ancient palaces, stadiums, and the natural beauty of sparkling rivers and rugged mountains. This is the country's mythical heart and where so many cultural riches can be found. Ancient sites waiting to be explored include Olympia, the hosting city of the Olympic Games for a millennium, and the cities of Sparta and Corinth. 
If it's beach life you're after, the magnificent coastline of the North Peloponnese is sure to satisfy your craving. Locals say the Peloponnese has the best that Greece offers, only without the crowds. While some of the best beaches in the region are well-known, there are many hidden coves that feel wild and untamed. Head to Skafidia for peaceful sunbathing on sandy beaches and gentle strolls through the surrounding countryside.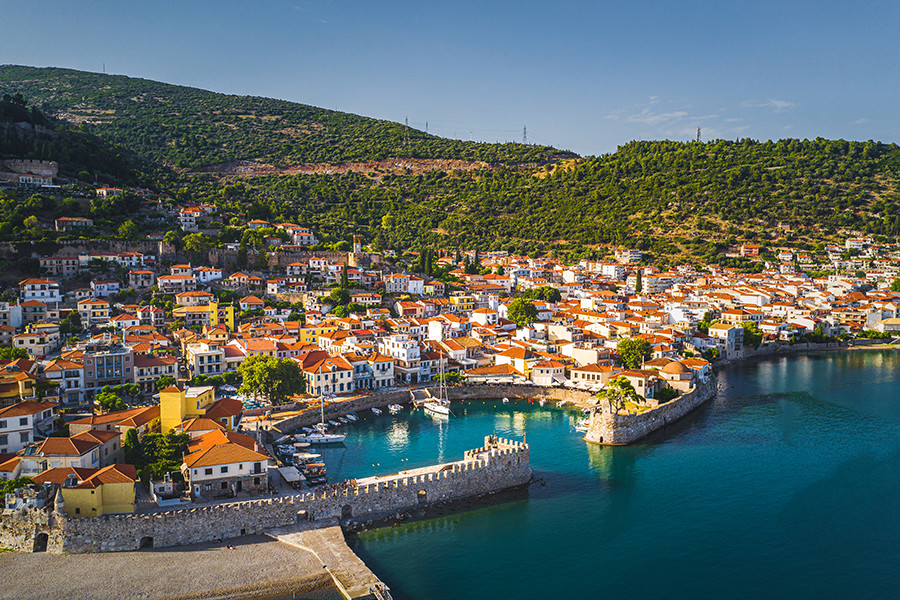 Nestled in a picturesque bay under the shadow of a majestic Venetian castle lies the maritime town of Parga. This is another destination where your camera will be extremely busy as there's a photo opportunity around every corner. Take a stroll around the old town where you can soak up the distinguished architecture and flower-filled neighbourhoods. The colourful mansions that dot the landscape are a delight in themselves and look stunning at sunset as the light plays over their rooftops. 
Part of Parga's charm lies in its unspoilt landscapes. From the wooded Lychnos Beach with its fascinating sea caves to the golden sands and cosmopolitan atmosphere of Valtos Beach, Parga's coastline offers many riches. For a little sightseeing during your stay, head to the Acheron River Springs or take a boat ride to the small but very pretty island of Panagia. 
Days in Parga Town offer a little something for everybody, with shopping and eating being among the favourite things to do. As you explore the narrow side streets and alleyways, you'll stumble upon crumbling churches, family-run meze restaurants, and postage-stamp-sized boutiques.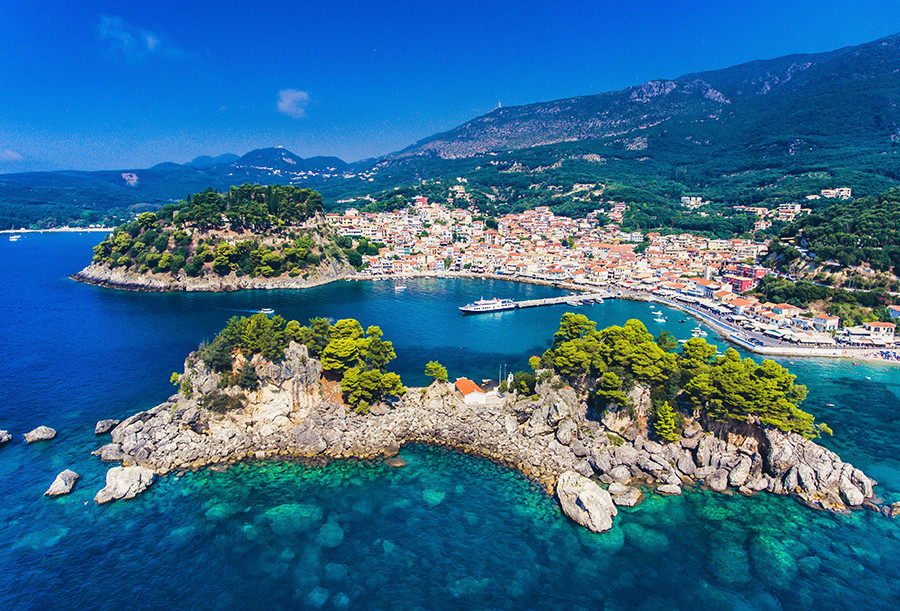 Nothing can quite prepare you for the first time you lay eyes on the Pelion Peninsula. Sweeping from the south and east of Volos, this dramatic cape is a lush mountain wonderland peppered with delightful villages and age-old trails to explore. The fishing ports that were once bustling with activity are now inviting beach destinations laden with charm. This striking coastline gets more and more beautiful the further south you travel. Beach hopping is definitely recommended.  
Also known as the 'Land of the Centaurs' due to its links with Greek mythology, the Pelion Peninsula offers plenty for avid walkers to enjoy. Stroll from village to village and walk the same cobbled paths donkeys once travelled to deliver honey and olives. From the lush green mountainous interior and coast trails along the glittering Aegean Sea to the fabulous flora of orchards, olive groves, and wildflowers, there is so much to discover on foot. 
When it comes to accommodation, you'll have your pick of small, family-run properties and larger hotels with more facilities. Travellers looking for a quieter way to while their away time will be pleased to know the high season is still peaceful in this glorious Greek hideaway. 
Discover the islands of Skiathos and Alonissos in combination with the Pelion Peninsula on our Jewel In The Crown Island Hopping Holiday.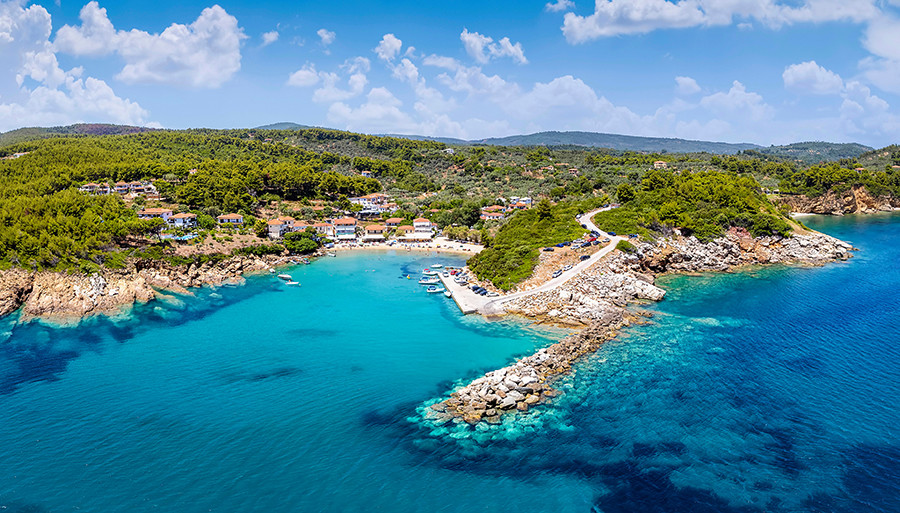 The Peloponnese is the stuff of legends, quite literally. Here you can immerse yourself in ancient Greek history as you journey deep into the region's ancient ruins and archaeological sites. Take a guided tour of the iconic Parthenon and Acropolis or make your own way to the Temple of Poseidon with its unrivalled position high on the cliffs at Cape Sounion. Time your visit just right to catch the sunset. 
Combining historic towns, sandy beaches, and a thriving wine region, there are so many experiences to be had on a Peloponnese holiday. Along the south coast, you can enjoy a private walking tour of Monemvasia, a medieval fortress town set on its own island. Or head towards Messina, where soft-sand beaches and age-old coastal villages await. In the evening, why not walk a little further into Costa Navarino for a taste of local cuisine and to toast the sunset?
For wine lovers, the Peloponnese offers plenty of independent wineries tucked among the vine-covered hills in the Nemean wine region. The vineyards here have been producing wine for centuries and offer many wine-tasting experiences.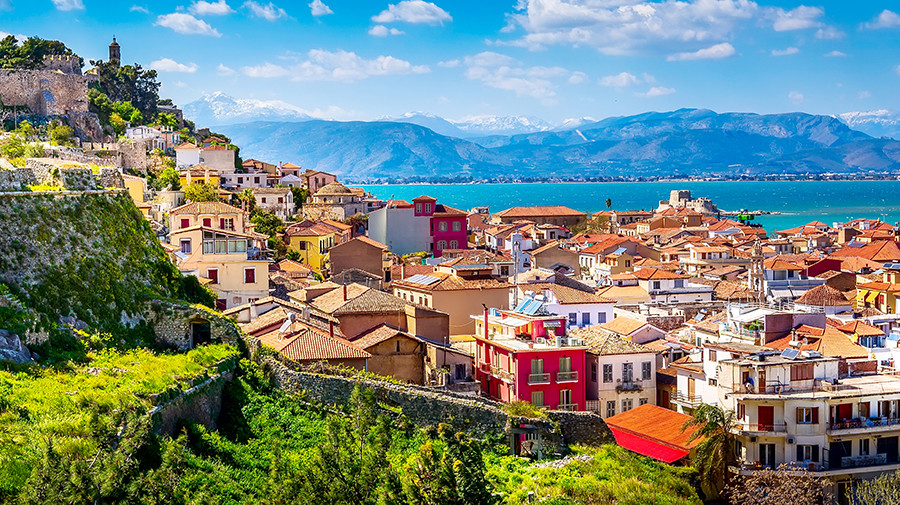 The unspoilt coastal region of Sivota sits just across the water from Corfu in its own pristine harbour. Just a short walk away, there are two glorious sandy beaches to be discovered and uninhabited offshore islands waiting to be explored. A short drive away lies the town of Zagoria, home to the fabled monasteries of Meteora, timeless slate-built villages, and quaint tavernas and restaurants perfect for grabbing a bite to eat between your adventures. 
Visitors to Sivota can enjoy a laidback pace and the freedom to make their own schedule. If it's elusive tranquillity you're after, you'll find it here in abundance. It's easy to stumble across an abandoned village or deserted beach here and feel like you are the only people left in the world. This wildly beautiful and rugged corner of the Mediterranean is one of the least visited parts of Greece but that only adds to its appeal. 
If you're after a little buzz in the evenings, Sivota harbour gets the balance just right. The twinkling waterfront is host to just the right number of tavernas, shops, and music bars and is the perfect way to wind down after a day spent exploring. 
Combine Sivota with the islands of Corfu and Lefkas on our Ionian Dreams Island Hopping Holiday.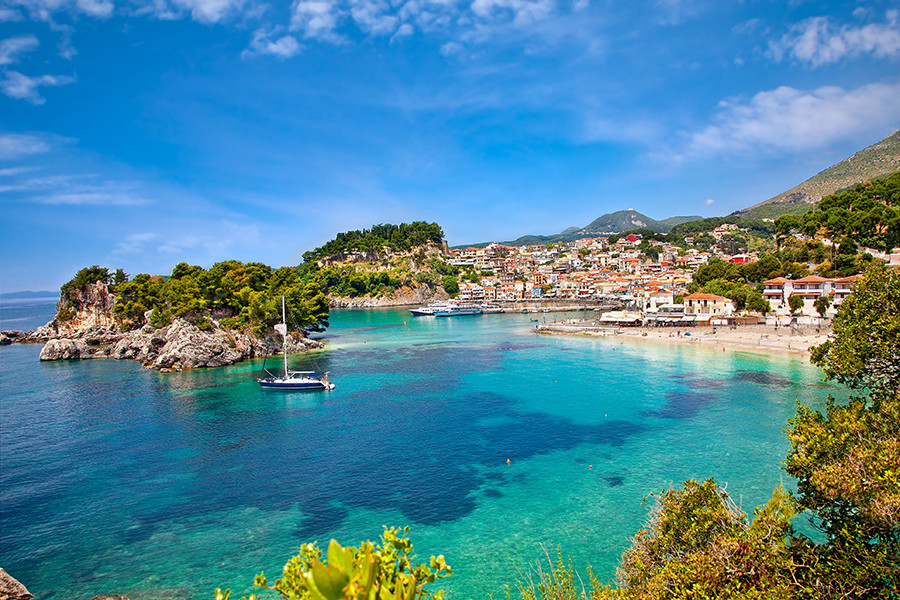 With its remarkable beauty, rich history, and vast seascapes, it's easy to fall in love with Thessaloniki. As Greece's second city, the streets are wonderfully chaotic and vibrant. As you take a stroll around the city's diverse neighbourhoods, you'll notice they are little worlds in their own right. Old and new cohabit beautifully in Thessaloniki. Turn one corner and you'll stumble upon family-run tavernas and cocktail bars brimming with activity. Turn another and you'll be transported back to the 4th century with fascinating archaeological sights to satisfy your inner historian.
Take a trip to the shopping drag of Egnatia where you'll find plenty of fashion boutiques, delicatessens, book stores, and enthusiastic street vendors. Keep a keen eye on clothing tags, there are some real designer bargains to be had here. After all that bargain hunting, head to the waterfront for some evening drinks and maybe catch the sunset over the bay. If you're feeling really adventurous, climb up to the Byzantine walls to take in the whole of the city as the sun goes down.
Whether you choose to visit Thessaloniki for the day or for a week, you'll come away with a wonderfully eclectic mix of holiday memories. Avant-garde and historic, warm and generous, this is a city that will stay with you for many years to come.