MAMMA MIA! It's summer and time to book a holiday to the Greek islands for fun in the sun – but do you know who is the biggest fan of the MAMMA MIA! stage musical?
It's Meryl Streep – who explains why the musical is so special to her.
"It was my daughter's birthday and we had not long moved to New York. I was trying to think of something to do but it was difficult at that time so I was looking through the newspaper and saw an advert in the theatre listing.
It said 'All-singing, all-dancing Great British musical Mamma Mia!'
I thought that's it, I'll try for tickets. Luckily, we were able to get a row and my daughter, friends and family had a ball. We were up dancing and singing and having a great time.
It was the first time in New York that we had felt so upbeat.
In fact, I wrote a letter to the producer Phyllida Lloyd telling how much we had enjoyed the show and how it really lifted all of us."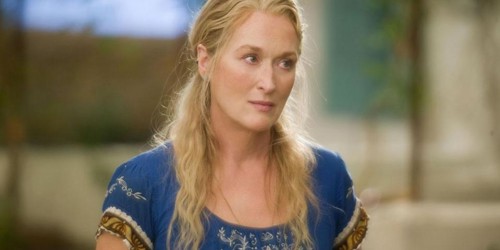 Take a chance on me …
Little did Streep know that when Lloyd and her producer Judy Cramer received the letter they both agreed that if they ever made a movie, Streep would be the first person they would contact.
Of course, the rest is history and in 2008 Streep starred as Donna Sheriden in the musical alongside Colin Firth, Pierce Brosnan, Amanda Seyfried, Christine Baranski, Stellan Skarsgård and Julie Walters.
Set in Greece, based on the songs of ABBA, composed by Benny Andersson and Björn Ulvaeus, more than 60 million people have seen the stage show.
Actor Pierce Brosnan who played one of the three fathers, Sam Carmichael, alongside Streep in the movie said he only took the part because Streep was in it.
Brosnan said: "I didn't know anything about Mamma Mia! Story so I went along to see the show. I then realised I would have to sing if I took the part! But nothing was going to stop me playing alongside Meryl.
"My favourite part was with Meryl when she was singing on top of the cliff. She was wonderful."