Said to be where the Goddess of Love went to bathe, the Baths of Aphrodite just outside of Paphos, Cyprus boast incredible scenery, glorious views and is engulfed by a magical history.
Bathed in myth and engulfed in legend, the Baths of Aphrodite have a majestic history that will send chills down your spine. The shady pool on the Akamas Peninsular near Paphos in Cyprus is believed to be the location where the Goddess of Love went to bathe, and the water is rumoured to make a woman grow younger.
The pool is protected by the shade of an ancient fig tree, shrouded by lush green foliage and decorated by twisted branches. Every sense is titillated by the Baths of Aphrodite, and visitors are promised to be fascinated by the rich history that the site exudes.
The Baths of Aphrodite are located an hour by car from Paphos harbour and roughly 10-minutes from the seaside town of Latchi and there's a car park onsite for convenience. As soon as you enter the vicinity, a magical wonder encompasses you whether it be from the glorious natural scenery or the serene atmosphere aided by the sounds of gentle wildlife. Legend has it that Aphrodite was born in the Aegean Sea and walked ashore on beach near Paphos, and the grotto is where the goddess bathed and met Adonis, who allegedly fell in love with her at first sight.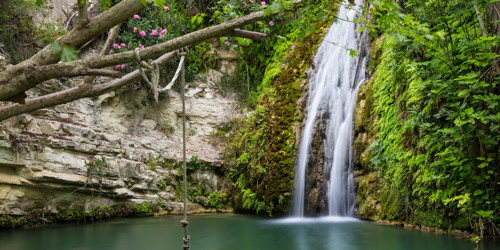 Even though bathing is banned for visitors, you can follow in the footsteps of Aphrodite herself as you explore the fascinating grotto which has striking sea views and hiking trails adorned with native wildlife and fauna. Strap on your walking shoes and embark on a guided tour of one of the two three-mile tracks, appropriately named Aphrodite and Adonis. Discover the Akmas Natural Reserve Park by foot or by 4x4 jeep safari, and marvel at the 500-year-old oak tree which is allegedly a descendant of the tree Aphrodite would rest under after bathing.
After your expedition, relax at the café by the entrance of the site, which has gorgeous views of the botanical gardens and a delicious menu to restore your energy. The Baths of Aphrodite is a glorious day out for all the family, and an absolute must-visit during a holiday to Paphos or Latchi.
Are you fascinated by the Greek Gods? Read all about it in our blog here.