The fine sandy beaches and crystal clear sea of the historic Makronissos headland near Ayia Napa make it one of the most popular places to relax in the Cyprus sun.
Two lovely sandy beaches are back-to-back on a small headland that juts into the warm blue Mediterranean Sea near the liveliest town in Cyprus. That's Makronissos. And some visitors say it's the best beach on Cyprus.
It's just three miles from the centre of lively Ayia Napa, one of the biggest and busiest resorts on Cyprus, and tends to be a little bit more tranquil than the busy beaches closer to the town.
The facilities are amazing in an area renowned for wonderful beaches. Makronissos is one of many that have the Blue Flag European standard for cleanliness and services. Rows of blue and white sunbeds and blue sunshades line the firm white sand. The sea is clean and clear.  Among the other facilities available are parking, restaurants, snack bars, toilets, showers, changing places and a wide range of water sports.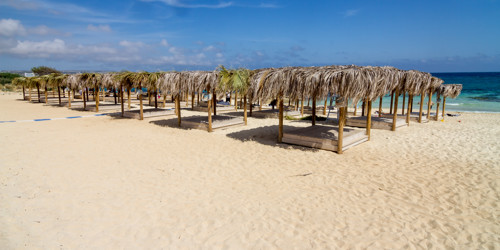 You get to the main beach between two beautiful hotels, the Asterias Beach and the Dome. A nice touch, which attracts families to Makronissos, is a large, safe bathing area where surfing and water sports that involve sails or motors are banned. There are lifeguards too. It makes it a great place for young children, air beds and ball games. 
There is still plenty of space elsewhere on this incredibly popular headland for windsurfing, kiteboarding, scuba diving and jet skis – or, if you prefer, there's space to flop down on a towel. Follow the boardwalk over the headland and there's a golden beach known as Makronissos West or Dome Beach after the hotel there.  It's sometimes slightly quieter.
Between these two beaches, further into the headland and beyond some sand dunes, there is an archaeological site with 19 tombs that were cut into the rock more than 2,000 years ago. It's worth the stroll.
A short walk along the coast gets you to a third beach, Makronissos Kandi beach known as the little sister. It is a bit quieter in the day but is a well-known party place in the evening and the music and dancing go on into the small hours.