Discover an unexpected treat at the remarkable Tombs of the Kings, a World Heritage Site from the era of Alexander the Great that overlooks the sea at Paphos in Cyprus.
Step in the footsteps of the Ancient Greeks and Romans by walking around the magnificent homes of the dead just outside the city walls of Paphos. The first of the world-famous Tombs of the Kings were built about 2,400 years ago.
The site was used for burials in pagan times and by early Christians possibly until the fourth century AD.  Some of the well-preserved tombs are thought to resemble homes because of the widespread influence of an Ancient Egyptian belief that the dead should rest as comfortably as they lived.
However the big surprise is that no kings are buried in this city of the dead. It was the resting place of aristocrats and statesmen at a time of Alexander the Great when Paphos was the capital city of Cyprus. The misleading name comes from the grandeur of the elaborate tombs that were carved out of the rock and designed to reflect the wealth and influence of the region.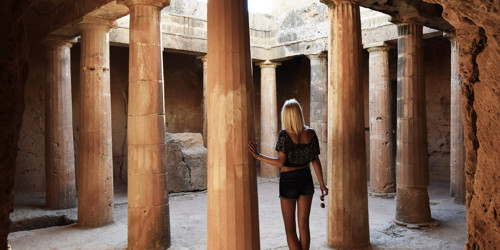 It takes an hour or two to explore the site that sprawls over a square kilometre or so of lovely countryside. It has stunning sea views and is alive with wildflowers in the spring.
There are seven tombs plus Doric pillars, porticos, fragments of frescoes and mosaics.
Unesco, the United Nations Educational, Scientific and Cultural Organisation, says the site is of exceptional historical value and includes it in the Paphos World Heritage Site (see other Unesco world heritage sites).
Essential information:
It's about a half hour walk from Paphos harbour and on a bus route from the town
There is a car park and toilets, but no café
Visitors are advised to wear hats, take water and not to wear flip-flops
Much of the area is rough underfoot and involves stairs, steps or climbing
Parts of the site are wheelchair and disabled friendly, including a viewpoint into the active archaeological trenches
Centuries of grave robberies removed many of the artefacts buried with the dead but archaeologists continue to unearth secrets
It is open all year round, except for the main bank holidays
Children must be accompanied by adults who pay 2.50 euros to get in (price correct at time of publication)