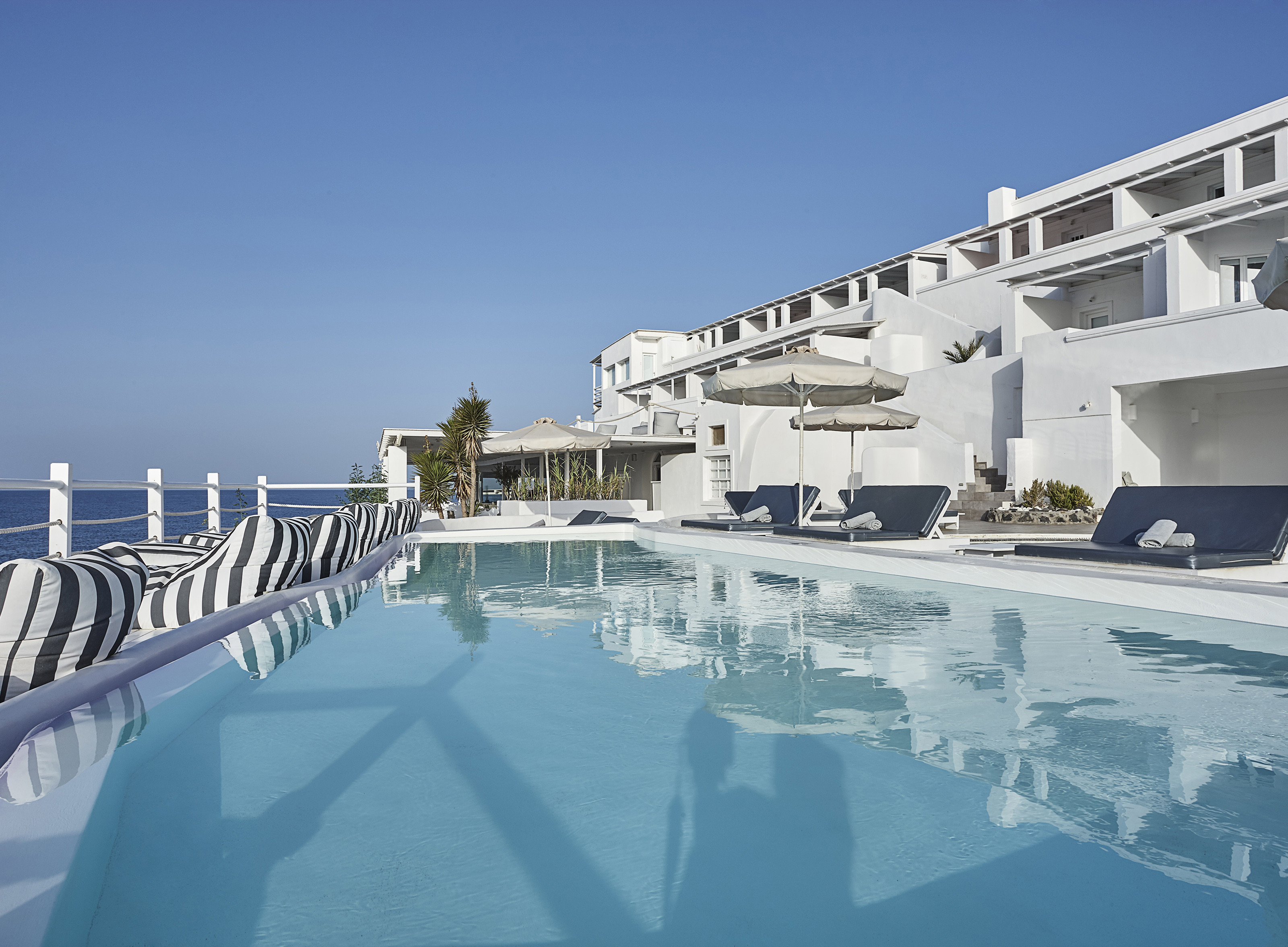 Loading
Description
Surrendering to the luxury of a soothing and rejuvenating spa is an indulgence to savour at the Notos Therme and Spa Hotel, in Vlichada, Santorini.
The cavern-style treatment rooms incorporate an indoor pool of fresh spring water, a sauna, steam room and Jacuzzi. Various spa treatments and therapies are available ensuring a relaxing stay.
Set in the small, rural region of Vlichada, the stylish hotel is perched on a cliff of volcanic rock overlooking the small harbour and is a great base from which to explore. Nearby, family-run tavernas and a bar offer Greek cuisine and a friendly atmosphere.
The hotel's own NoBlu Restaurant offers creative Mediterranean cuisine, including fish straight from the fishing boats at the nearby harbour, while the lounge bar is an elegant venue in which to relax with a cocktail.
A member of the Small Elegant Hotels of the World, the hotel is not far from one of Santorini's lovely, black-sand beaches, backed by white cliffs, and with mesmerising sunsets, while nearby Perissa beach is overlooked by the dramatic rock of Mesa Vouno.
The outdoor swimming pool also has natural spring water, as well as a sunbathing area, private deck and a bar and restaurant, facing the Aegean Sea, serving refreshing cocktails, fresh seafood and local delicacies.
Popular activities in the Vlichada region include sailing and snorkelling, and vineyard visits can be arranged from the hotel.
Please note: Due to the location, layout and large number of stairs in all areas, this location is not suitable for wheelchair users and guests with limited mobility. 
Olympic Rating: 4 Star
Official Rating: 4*
Accommodation
Junior Suite sea view (20-30m2) Sleeps up to 3 persons. Built in an open plan style, the bedroom features a double bed and a sitting area with sofa bed, air-conditioning, hairdryer, satellite TV, direct dial telephone, safety deposit box, bathroom with shower, room service (up to midnight) and Beach towels.
Double room sea view (18-22m2) Sleeps up to 2 persons. A cozy bedroom with one double bed and stunning views to the Marina and the Aegean sea. Same facilities as per the Junior Suite sea view.
Senior Suite sea view (35-45m2) Sleeps up to 4 persons. Spacious open plan Suite that comprises of one double bed and sofa beds in the comfortable living area with same room facilities as per the Junior Suite sea view.
Plunge pool Suite sea view (28-40m2) Sleeps up to 2 persons. An open plan bedroom with sitting area and a refreshing Plunge pool, same room facilities also as per the Junior Suite sea view.
Notos Suite sea view (55-70m2) Sleeps up to 2 persons. An open plan Suite with bedroom and sitting area, bathroom with shower and a separate bathtub with Jets. The all-round glass walls of the Suite and the sun beds in the balcony will leave you speechless with the astonishing views of the Aegean sea. Same room facilities also as per the Junior Suite sea view.