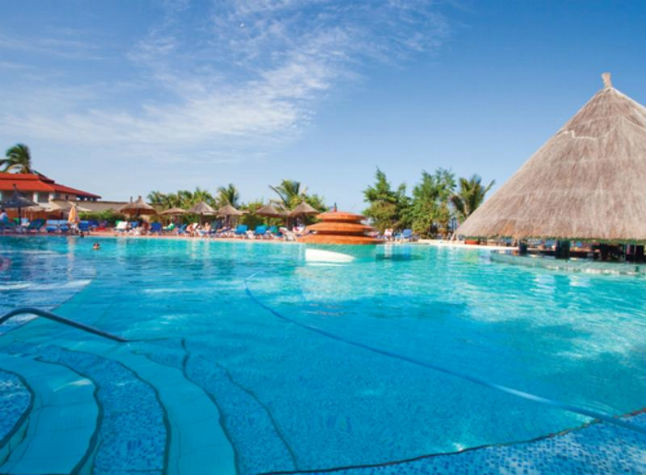 Loading
Description
Observe monkeys, lizards, squirrels, and vultures among tropical palm trees and vibrant exotic plants at the Senegambia Beach Hotel.
Nestled in the Kololi district of The Gambia, this beachfront hotel is renowned for its proximity to bars, restaurants, nightclubs and markets. 
Guests can immerse themselves in African culture through evening entertainment featuring folklore nights and themed buffets. The Atlantic Beach Bar & Restaurant, with its scenic views of the sea and pool, serves as a popular spot for casual dining. Revel in spectacular sunsets on the terrace with a cocktail, capping off a day spent on the beach.
For a different dining experience, indulge in the offerings of the Domordula Restaurant or savour drinks and snacks in the Oasis Pool area, which provides a tropical vibe overlooking beautiful gardens.
Operating on a cashless system, Senegambia Beach Hotel requires guests to provide a credit card or cash deposit upon arrival, in exchange for a guest pass valid at all food and beverage outlets.
Please be aware that the hotel management prohibits the consumption of any food or drink purchased off site in public areas of the hotel.
Conveniently located approximately 35 minutes from the airport, Senegambia Beach Hotel offers a unique blend of natural beauty and vibrant cultural experiences.
Olympic Rating: 3 Star Plus
Official Rating: 3 Star
Cuisine
There is a fantastic choice of traditional and international dishes available. For a light tasty snack during the day you have the choice of the Beach Grill or Terrace where you will find various snacks, sandwiches, pizzas or salads. There are a selection for hot and cold dishes available in the buffet restaurant for your evening meal and for that special night there is always the option of dining in the very smart and stylish Flamingo a la carte restaurant. For that refreshing after dinner drink you can lounge in the inviting lobby bar and reception area, or sit outside in the balmy Gambian air under the clear star-studded sky at the Terrace Bar whist listening to soft music or watching a performance of traditional Gambian dancers as they move to the hypnotic sound of the rhythmic African drums.