Grecotel Hotels & Resorts
It doesn't get any more spectacular than a stay at Grecotel Hotels & Resorts. Some of Greece's finest properties that have been inspired by their beachfront locations, these hotels are nothing short of waterfront palaces, contemporary chic resorts and relaxing island retreats. The brand boasts a stellar collection of resorts across the likes of Mykonos, Corfu, Crete and Rhodes, with each property split into categories of boutique hotels, elegant beach resorts, LUXME (luxury made easy) and All-in Lifestyle resorts. Whether you're seeking a family adventure or a romantic couples retreat, Grecotel ticks every box thanks to its incredible gastronomy, heavenly accommodation options and exciting activities. The signature Grecotel service philosophy is the shining star behind it all, with each and every staff member dedicated to the mission of not overlooking any details or desires. Grecotel Hotels and Resorts is undoubtedly the place to live out your holiday dreams in more ways than one.
Gastronomy
Greece's culinary scene has always been something to shout about – but wait until you indulge in the gastronomic offerings across the Grecotel Hotels & Resorts. Get ready to embark on a culinary adventure and taste the stars whether that be as dine al fresco under the night sky or sampling the Michelin-level food served to you in an elegant setting. Each property has a range of both casual buffet and upscale á la carte options, ensuring that every dietary need is catered for and everyone from the foodie to the fussy eater are completely satisfied, not to mention a range of bars serving your favourite tipple. Vegan and BIO wines are also available in all restaurants. The new Dine Club concept is perfect for sampling the best dishes across the resorts; an exclusive half board dining experience at selected Grecotel restaurants around Corfu Kommeno Peninsula, Riviera Olympia Resort, and Crete. Or, if you truly don't want to lift a finger, the Comfort All-in pack is the Grecotel's version of all-inclusive which includes selected drinks & beverages, snacks throughout the day and a complimentary a lar carte dinner weekly.
LUXME All-In Living: An outstanding food and beverage selection, including breakfast, Lunch and Dinner options, snacks at set times, unlimited drinks, a remarkable range of premium brands, wines, cocktails and healthy juices (available at LUXME White Palace, LUXME Dama Dama, LUXME Daphnila Bay, LUXME Daphnila Bay, LUXME Costa Botanica & Kos Imperial).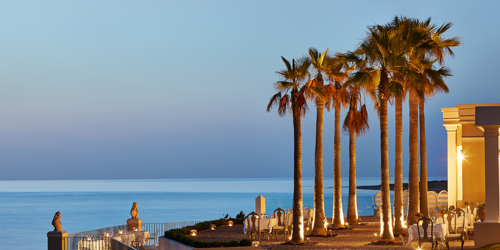 Wellness
Leave your stress behind at the front doors of Grecotel Hotels & Resorts because the wellness facilities here are second to none. Instant relaxation is on the cards with the choice of swimming pools and superb on-site facilities at your beck and call, not to mention every resort has direct access to the beach so you can lounge on the sands and swim in the shallows to your heart's content. The Elixir Spa encourages its visitors to regain a sense of balance and rediscover life's essence to create a healthy mind that works in harmony with a healthy body. From massages and facials to body scrubs, the extensive spa menu caters to everyone. If you're on a romantic holiday, treat your loved one to a couple's massage, or if you're seeking an indulgent experience, book an open-air massage in a serene beach gazebo with just the gentle breeze of the ocean as your companion. Wellness at Grecotel goes beyond pampering. The high-end gyms boast state-of-the-art equipment so you can keep up your fitness regime, and you can also enjoy personal training from an instructor at an extra charge. Or, try your hand at something new with watersports on the beach, perfect for those with a love for adrenaline.
Families
From the very young to the young at heart, every family member is cherished at Grecotel Hotels & Resorts – but it's safe to say that children are somewhat VIPs. Kids' clubs are taken to the next level here, with Grecoland and highly supervised programmes that are designed to both educate and entertain. Select resorts boast the likes of sports days, waterslides and even water parks, perfect for keeping the little ones active while you sneak off to the spa. Speaking of the spa, select resorts also offer kids' pampering sessions, perfect for getting in some quality time with their parents over a facial or a manicure. Children aged 12 and under also eat free as part of the Dine Club or Half board offer which includes all-day snacks at Grecoland, a Tasty Corner lunch at main restaurants and a special kids' menu at á la carte eateries so they're truly spoiled for choice. Moreover, there have been exciting new additions such as Padel Courts & E-bike services.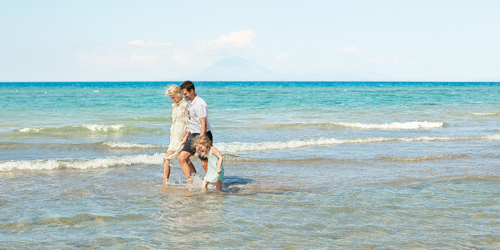 Agreco Farm In Crete & Danilia Village In Corfu
Just when you thought Grecotel couldn't get any more special – it does. In Crete and Corfu, guests can experience the authentic Greek way of life with Grecotel's Agreco Farm and Danilia village. The Agreco traditional farm is located on a four-hectare estate near Rethymno in Crete and showcases ancient farming methods as well as providing an insight into the organic production of the island's delicious fresh fare. Guests simply must visit the farm's on-site taverna where a delectable six-course menu of Cretan dishes are served, showcasing the farm's organic produce. Olive oil, honey, wine, herbs, olives and even a range of fragrances and body care products from the farm are all available to purchase at the Grecotel properties and the airports Duty Free shops. The Danilia village is also something that shouldn't be missed out on. The village is a unique replica of a traditional Corfiot village, immersing guests in the verdant greenery of the island with an exceptional dining venue, a museum and shopping village, all of which are exclusive to Grecotel's honoured guests. Now available: New Danilia Village Guided Tour, including roundtrip transfer, village's tour and treat at the "Kafeneion".