Ikos Resorts
Slowly becoming a household name in recent years to sit among hotel superpowers like Mandarin Oriental and Four Seasons, Ikos Resorts doesn't do anything by halves. Offering a gateway to some of the most desirable locations in Greece and Spain, Ikos prides itself on its luxurious settings, incredible hospitality and unique experiences that you truly can't get elsewhere. Year on year, the hotels top the charts with their accolades with the likes of Ikos Dassia in Corfu being crowned number one in the 'Top 25 All-inclusive Resorts in the World' and Ikos Olivia in Halkidiki following directly behind in second place. Each hotel is placed on the sands of beautiful beaches, offers multiple swimming pools for pure relaxation and acres of landscaped gardens for beautiful exploration – But the real shining stars are the amenities, services and facilities. Take to the roads and make use of Ikos' unique local discovery service to explore the sights behind the wheel of a complimentary Mini Cooper or indulge at nearby authentic restaurants for no extra cost with the Dine Out scheme. It's exclusive experiences like these that puts Ikos in the number one spot.
Gastronomy
The Infinite Lifestyle concept is as luxurious – and delicious – as an all-inclusive board basis can possibly get. Gone are the days of recycled buffets and restricted drinks because when it comes to dining at an Ikos Resort, the world is truly your oyster. Each restaurant is á la carte and features menus created by Michelin-starred chefs to bring together a spectacular array of flavours from Greece, France, Italy, Asia and beyond across breakfast, lunch and dinner. Guests are invited to explore the vineyards of the world with a unique wine list with over 300 international wine labels prepared by award-winning sommelier, Nikolas Giannopoulous, that perfectly match the Michelin-starred chef's menus. If that wasn't enough, Ikos prides itself on its mixology and has an impressive cocktail programme prepared by world-renowned mixologist, Aristotelis Papadopoulos. As well as the classics, you can sip on specially curated cocktails that are inspired by art, love and joy. Furthermore, Ikos guests can enjoy 24-hour room service, branded spirits in their mini-bar, waiter service to their sun lounger and an excellent Dine Out experience which allows guests to experience authentic Greek food at renowned local restaurants for no additional cost.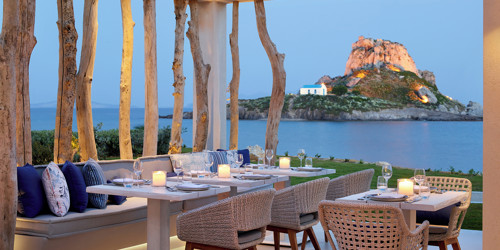 Spa & Wellness
There's no such thing as stress at Ikos Resorts. The spa is utterly blissful and boasts signature treatments by Anne Sémonin Paris that are soothing and purifying, used in combination with the expert therapists using products with essential oils and minerals. From aromatic scalp massages to complete deep cleansing body wraps, there's truly something for everyone to ensure you'll return home feeling like a million dollars. Additionally, Ikos Resorts has no shortage of activities that are designed to enhance your physical and mental wellbeing. Release endorphins with a session in the fitness centre, a swim in the pool or a game or two on the tennis courts. Or why not stimulate your mind by embarking on a cookery course or a course on Greek mythology? No matter what you decide, Ikos has it all.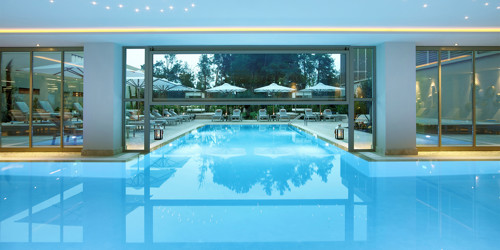 Family Fun
From four months old to age 17, there's no end to the fun for guests at Ikos Resorts. Each hotel boasts a creche, a mini club and a teen club, and organised programmes of sports, activities and educational experiences are led by the qualified and experienced staff of child-based consultancy, Worldwide Kids. The WK Football Academy also proves to be popular, operating seasonally and getting the entire family involved for some football fun. The children's facilities across all the hotels are second to none, and provide the added bonus for some alone time for the adults to enjoy the spa, soak up the sun on the private beach or unwind with a book by one of the swimming pools.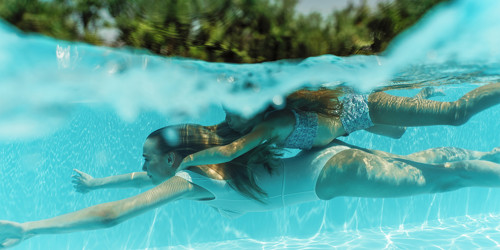 Deluxe Collection Luxury Living
For those who want to upgrade their stay at Ikos, the Deluxe Collection is sure to tick every box. Discover a world of luxury living, beginning with your incredible suite and continuing with an endless range of exclusive services and premium benefits designed just for you. Your accommodation is nothing short of a private haven, coming complete with a private pool or garden and an expansive balcony accompanied by unparalleled views. Additionally, you'll be welcomed with a bottle of Taittinger champagne and have access to an upgraded mini bar and premium bathroom amenities. Your Deluxe Concierge is on hand for your every need, while you can also enjoy a private dinner on the beach, kids will have access to the movie library and PlayStation games (console available on request), an upgraded beach and pool service menu, two complimentary neck and back massage treatments and a farewell gift before your departure.