Leonardo Hotels
Redefining hospitality through innovation and imagination, Leonardo Hotels certainly don't do anything by halves. The brand boasts a variety of properties across the Mediterranean including Cyprus and Rhodes; those seeking an adults-only escape will adore Leonardo Plaza Cypris Maris Beach Hotel & Spa in Paphos and Leonardo Crystal Cove Hotel & Spa in Protaras while the family-friendly Leonardo Kolymbia Resort in Rhodes and Leonardo Cypria Bay in Paphos are the perfect options for guests of all ages. Beachfront locations, eclectic eateries, fantastic activities and so much more await you at Leonardo Hotels, not to mention incredible service and unparalleled hospitality that promise to make your holiday a truly unforgettable experience. No matter where you stay, you'll feel right at home. How do the swim-up rooms at Leonardo Cypria Maris, Leonardo Kolymbia Resort Hotel or Leonardo Cypria Bay sound? Perfect for a family of four at Leonardo Cypria Bay, these 25 square metre rooms boast views of the garden or the sea, as well as providing direct access from the private terrace to a shared river pool.
Gastronomy
Tuck into delicious culinary revelations across the Leonardo Hotels, all of which have incredible restaurants guaranteed to satisfy everyone from the foodie to the fussy eater. Leonardo Kolymbia Resort has an all-you-can-eat main buffet restaurant where you can enjoy exquisite Greek and international creations across breakfast, lunch and dinner. From healthy meals and comfort food to vegetarian options and child-friendly meals, everyone is catered for throughout their stay. There are two bars including one by the swimming pool and an all-inclusive option is also available here and at Leonardo Cypria Bay. The selections at Leonarda Plaza Cypria Maris Beach Hotel & Spa draw upon the generous bounty of the land and the riches of the sea to bring guests eight restaurants and bars which range from a Greek taverna and an Asian eatery to a swim-up pool bar and an indoor Club Bar with live music and an outdoor deck terrace. You'll also be spoilt for choice at the Leonardo Crystal Cove Hotel & Spa with its two restaurants and a newly opened outdoor bar. Refresh yourself with a cocktail by the pool bar or start your day right with a morning coffee at the Ariadne Lounge Bar.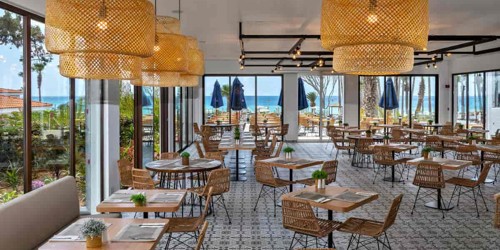 Wellness
The excellent wellness facilities at Leonardo Crystal Cove and Leonardo Plaza Cypria Maris Beach invite you to leave all your worries behind as you indulge in an afternoon of pampering at the spa. Catering for both him and her, the extensive menu of treatments ranges from energising jet-lag recovery massages to deep-cleansing body scrubs and relaxing facials. The spa also has a professional hair and beauty salon that include services such as manicures, pedicures, eyelash extensions and even options for bridal hair and make-up. If you're seeking something slightly different for a spa treatment, Leonardo Plaza Cypria Maris Beach is the only destination in Cyprus with a registered Garra Rafa Fish Spa offering both feet and full-body ichthyotherapy, including but not limited to the fish nibbling away dead skin on the feet.
Families
At Leonardo Cypria Bay and Leonardo Kolymbia Resort, children are promised just as much of an unforgettable experience as adults. Everyday is a new adventure thanks to the exciting and educational programme of activities available at the Kids Club which caters for children aged three to 12. Little ones can expect the likes of board games, arts and crafts, dance and friendly competitions while in the evening, the fully qualified staff watch over the children at the Kids Corner dinner buffet which allows the adults a period of privacy. Additionally, the Teens Club at Leonardo Cypria Bay caters for those aged 13 to 16 with age appropriate games, indoor and outdoor sports and complimentary Wi-Fi access.
Adults Only
There's nothing like spending some quality alone time with your significant other and no one understands that better than Leonardo Hotels. Both Leonardo Crystal Cove Hotel and Leonardo Plaza Cypria Maris are adults only, catering for guests aged 16 and over for a serene and tranquil experience from check-in to check-out. Guests can expect rooms and suites fit for royalty with beautiful modern amenities to match, romantic restaurants to rekindle the magic over a delicious meal, excellent facilities including a heavenly spa with treatments for him and her and so much more. Both hotels are in brilliant locations to explore the local area, perfect for venturing out hand-in-hand for a leisurely stroll under the Cypriot sunshine.
Weddings
Speaking of romance, how would you like to tie the knot at Leonardo Hotels? Cyprus has been dubbed "The Wedding Island" so it goes without saying that it's the perfect location to get married with the backdrop of gorgeous beaches, scenic archaeological sites, clifftop views and year-round sunshine. At Leonardo Hotels in Paphos, your ceremony, reception and wedding are all rolled into one thanks to the expert wedding planners who will ensure your day goes off without a hitch. Venues are available on the beach in luxury surroundings while there are plenty of bespoke packages and premium customised catering available, as well as gifts and complimentary upgrades for the newlyweds wherever possible.