MarBella Collection
Three extraordinary hotels in three incredible locations – nothing quite compares to the MarBella Collection. Each of the properties are well-deserving of every one of their five stars and all possess their own unique personality that have guests return year after year to experience incomparable Greek hospitality, unparalleled luxury and an all-round sensational stay. Family-friendly MarBella Corfu Hotel ensures that everyone from the very young to the young at heart are spoiled in sun-drenched surroundings on the south-east coast of the island while just up the coast resides the adults-only MarBella Nido Suite Hotel & Villas which promises a sophisticated getaway on the beachfront. Last but by no means least is MarBella Elix, located on the Greek mainland near Parga, which is truly the epitome of delightful opulence. No matter which of the MarBella Collection hotels you decide to stay at, expect nothing less than magical moments filled with delectable gastronomy, exciting activities and pure relaxation from the moment you arrive.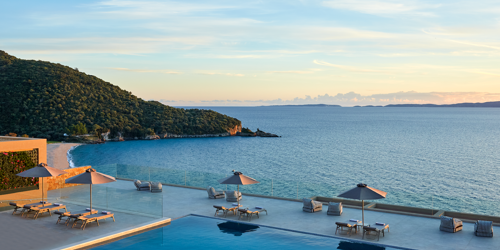 Gastronomy
Discover what dreams are made of as you embark on a gastronomic journey at the MarBella Collection. The hotels are home to some of the best eateries across Corfu and the wider mainland of Greece and all it takes is one bite to have you convinced. Fresh, local ingredients are blended together with exceptional cookery to create exquisite flavours whether it's á la carte fine dining or a casual daytime meal by the pool. The cuisines are teasingly diverse to ensure there's something for everyone – think traditional Greek, Asian, Italian and seafood, not to mention snacks inspired by American cuisine to help keep you satisfied throughout the day. The MarBella Collection pairs their delicious fare with a breathtaking environment, with the Ionian Sea as a beautiful backdrop, not to mention refreshing drinks that range from cocktails made from premium ingredients to full-bodied wines from Greek or international vineyards. Dining at the MarBella Collection isn't just a meal – it's an experience.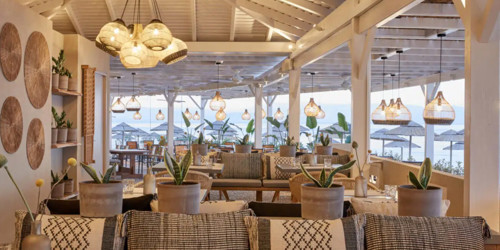 Wellness
The MarBella Collection are strong believers that the greatest holiday gift is relaxation. The stylish wellness centres at each hotel brings relaxation to life as well as invigoration, rejuvenation and enrichment. Treatments for the face and body are available at the spa and the expert therapists use products that are rich in natural and organic ingredients from serums to essential oils to ensure the ultimate pampering session. Wellness extends beyond the spa thanks to the excellent exercise facilities across the hotels which include fully equipped fitness centres, Pilates classes and outdoor yoga sessions, and even jogging trails in the surrounding grounds led by personal trainers.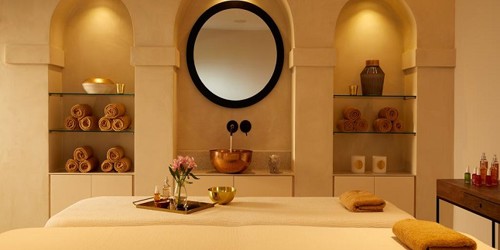 Family Fun
From toddlers to teens, every young guest is catered for at MarBella Corfu and MarBella Elix. Learning is made fun with the incredible organised activities overseen by Worldwide Kids UK childcare specialists, ensuring that every child comes away from the holiday with plenty of unforgettable memories. Kids Planet at MarBella Corfu boasts a stimulating programme of indoor and outdoor adventures for four-month olds to three-year olds which include treasure hunts, sensory play and craft activities. For kids a little older, their imagination can come to life in the Robotics Lab or they can enjoy some messy amusement with the pottery and ceramics classes. MarBella Elix's Adventure Club is also second to none, catering for those aged 12 to 16 with activities to suit all tastes including watersports, cooking lessons, football and console games.