Stella Hotel Collection
At Stella Hotel Collection in Crete, it's all about the experience. Creating moments that last a lifetime is the brand's speciality whether it be by spending quality time with your loved ones, unwinding in the privacy of your very own pool, indulging in fine dining and signature cocktails, exploring the local area and so much more. Unmatched hospitality and attention to detail are present across all the resorts, which boast five-star ratings. Stella Palace Resort & Spa is perfect for a chic and stylish retreat with all the family, Stella Island Luxury Resort & Spa is an adults-only paradise designed for the utmost relaxation, and Stella Village Hotel & Bungalows is the ideal set-up for children and adults alike to have an unforgettable adventure. Watch Crete and the beauty of the Mediterranean come to life at Stella Hotels as you immerse yourself in a world that closely resembles a heavenly paradise.
Gastronomy
Stella Hotel Collection prides themselves on a selection of unique flavours across all of their restaurants, adding another dimension to your authentic Cretan experience through culinary excellence. Guests are invited to discover remarkable menus, international fusion and gourmet gastronomy alongside a comfortable atmosphere and delicious beverages. Not only will you get to sample local specialities, but you'll also be able to branch out to delight in delicious international food from a range of different eateries. Stella Village Hotel & Bungalows is offered on an all-inclusive basis and boasts a total of five restaurants and bars including La Veranta, an Italian eatery that offers some of the best cocktails on the menu and a superb wine list. Wining and dining at Stella Island Luxury Resort & Spa is utterly blissful from the exceptional in-room dining service to the delectable Asian delights at Umami. Eat like royalty at Stella Palace Resort & Spa as you eat like a local with creative Greek cuisine paired with exceptional Cretan wines and an elegant ambience.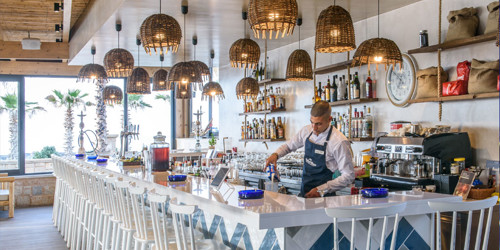 Wellness
Let calmness wash over you with the exceptional wellness facilities at Stella Hotels Collection. An extensive treatment menu, exceptional products, skilled therapists and personalised wellbeing programmes come together to create a relaxing experience that is designed to rejuvenate your body from the outside in. Expect nothing less than natural ingredients inspired by the ocean as well as a wide range of facilities including a fitness studio, hammam, Jacuzzi, sauna, an indoor pool and nail salon. The wellness journey continues with the stellar cuisine at Stella Hotels Collection, with a philosophy inspired by the recognised benefits of Mediterranean fare. A combination of the therapeutic treatments alongside a balanced diet from the enriched Cretan dishes, fresh salads and seasonal fruits is proposed for a heightened wellbeing experience.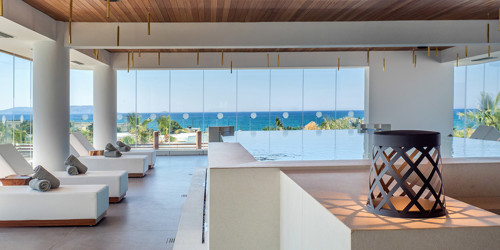 Families
From babies and toddlers to small children and teenagers, the family fun never ends at Stella Hotel Collection. Every need is catered for with ease, including the likes of spacious family rooms, activities and animation programmes to enhance your holiday in the best way possible. The Stella Kids Club is perfect for parents who are seeking a little alone time as children are left in the safe, capable hands of the Stella staff to expand their imaginations and embrace the unique characteristics of Crete's culture through painting, creative games and interactive cooking classes. Evening entertainment is offered at the open-air amphitheatre with mini discos, cinema showings and thematic performances.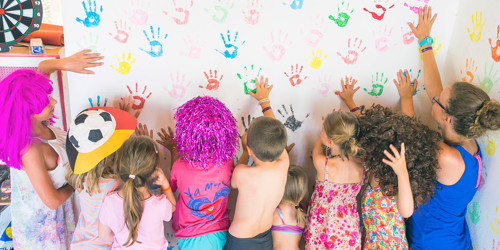 Waterpark
Stella Waterpark is the collection's incredible aqua park that promises thrills and spills for all ages – think waterslides, splash pools, circular tubes, aqua towers, all of which will keep children entertained throughout the day and access is free for all guests staying at any of the three Stella hotels and is conveniently located within a 5/10-minute walk from any of the hotels.
Adults Only
If you're seeking ultimate serenity in an elegant setting, you can't go wrong with a stay at the adults-only Stella Island Luxury Resort & Spa. Luxury by name and luxury by nature, this gorgeous hotel is the perfect place to unwind with your companion and immerse yourself in utter bliss. You'll be just a short 15-minute stroll away from the nearest beach or you can opt to simply stay put in the resort and lounge by the lagoon-style pool which stretches around the entire property to give it a premium island feel. There are no less than five exquisite restaurants on-site and plenty of opportunities to indulge in a bespoke cocktail in glorious surroundings while live music plays softly in the background. The adults-only concept allows you to reconnect and enjoy quality time with a loved one with no interruptions while simply watching the stresses of daily life melt away.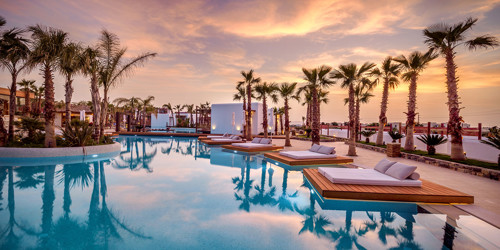 Unique Design
Across Stella Hotel Collection, it goes without saying that the accommodation is something special. The place where comfort meets elegance, every need is catered for in order for guests to have a heavenly stay from check-in to check-out. The overwater bungalows located at the Stella Island Luxury Resort & Spa add an extra dimension to your luxury holiday. You'll be immersed in tropical scenery with direct access down from your sunbathing deck to the swimming pool. The bungalows are spacious and contemporarily decorated with wood and glass, as well as kitted out with a range of amenities including a minibar, premium bathroom products, an LCD flat-screen television and much more. Swim-up rooms are also available for that extra touch of elegance, not to mention villas with a private pool.