Summer 2023 will come around before you know it. To help you decide where you might wish to go, we've handpicked a selection of destinations spanning the Cyclades, Ionian, Dodecanese and Saronic Islands. The islands we are spotlighting can be chosen as an alternative to the bigger and more popular islands. Or you could opt for a combination of the famous islands with the less well-known destinations below. Either way you will be spoilt for choice.
Tinos
Tinos is best for an experience of authentic village life (there are 45 traditional villages on the island) with its many tavernas. Its Greece as it used to be. Part of the Cyclades islands, Tinos has a tradition of marble sculpting and many of the villages have striking white and marble buildings, making it an ideal destination for architecture enthusiasts.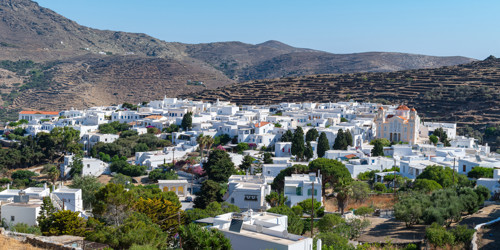 Picturesque Pyrgos is known as the sculptors' village, with its marble streets, arches, churches and many monuments. Pyrgos is one of the largest villages on Tinos and is the birthplace of many Greek sculptors including Ioannis Halepas whose house is open to the public.
There is a religious context to this island. The Panagia Evangelistria Church is visited by thousands of pilgrims every year.  
Tinos has some superb walking trails connecting the villages. Hikes to Xobourgo plateau with its old fortress and Kechrovouni monastery near the village of Steni with fine views over the island are just some of the trails available. The surrounding area of Volax with its big granite boulders are ideal for climbers to explore.
There are several beaches to visit, take a stroll on the Blue Flag beach Agios Fokas, one of the longest on the island plus Agios Ioannis and Kionia are also great beach options.
Overall a very relaxing holiday can be had on Tinos.
Andros
Andros is an unspoiled island that is rich in history and culture. The island's capital Chora is steeped in Venetian, Byzantine and Ottoman architecture. For culture vultures, on Andros there are archaeological museums in Chora and Paleopolis, the ancient capital of Andros.
In addition to this there is the prehistoric Plaka settlement, Zagora, which dates back to the Geometric period and a fortified settlement dating back to Meolithic times where rock paintings have been unearthed.  You can truly step back in time on Andros.
Major landmarks include Faneromeni's castle built in the 11th century and Tourlitis Lighthouse out at sea. On an islet across from Andros lies Frankish castle.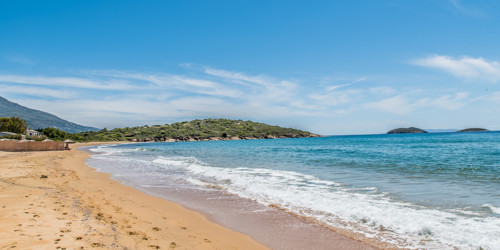 If you are looking to just unwind on holiday, Andros has many beaches including Aggios Petros, Batsi and Golden Sand which are the most well known. The more isolated beaches are Vlychada, Agios Sostis and Halkolimnionas.
Andros and Tinos are the perfect island-hopping combination due to their close proximity.  These islands can be alternative destinations to neighbouring Santorini and Mykonos as they are cheaper and less populated. Alternatively, add neighbouring party island Mykonos to your itinerary to complete a Cyclades Islands holiday of varied and contrasting experiences.
Kefalonia
Kefalonia is the largest of the Ionian islands and is one of the best destinations in Greece for nature lovers. The island's breathtaking landscape, dramatic mountains and wonderful beaches draw people to come back again and again. It is such a beautiful island, so much so that Kefalonia was the setting for the film Captain Corelli's Mandolin.
Beaches to be explored on the island include Myrtos (ranked one of the world's best beaches), Antisamos, Lourdas and Skala. Magical caves such as the lake cave of Melissani are a must see in Kefalonia. This natural wonder is one of the most impressive sights on Kefalonia.
Nature abounds on Kefalonia. Mt Ainos National Park is teeming with wildlife such as wild ponies, golden eagles, ospreys and other protected species. The park is ideal for excursions and hikes. Kefalonia's waters are home to an array of marine wildlife including dolphins, rare monk seals and loggerhead turtles.
Villages of note include Fiscardo, Argostoli, Sami and Assos.
Combine a trip to Kefalonia with an island hop to the better-known island of Corfu.  
Kos
Kos is the third largest island of the Dodecanese and is the second most popular island in the region after Rhodes. 
The island has been influenced by many cultures over the centuries, such as Ancient Greeks, the Romans, the Venetians, the medieval Knights and the Ottomans. With this in mind, there are many ancient and medieval monuments as well as numerous archaeological sites and historical landmarks on Kos.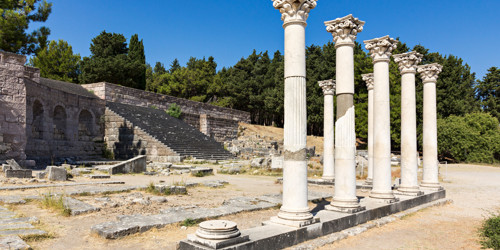 The island was the home of Hippocrates, father of medicine. It is believed that Hippocrates' 2,500 year old plane tree is where he taught his pupils and examined his patients. The Asklepieion of Kos is one of Greece's most important archaeological sites, which is located 4km northwest of Kos town. Asklepieion was one of the top holistic healing centres of the ancient world, which followed the medical guidelines of Hippocrates.
Besides history, Kos has an array of beaches for total relaxation, including Kardamena, Tigaki, Mastichari, Marmari and Kefalos. Paradise beach is particularly popular, which is known amongst locals as Bubble Beach. With white sands and clear waters, people of all ages love the famous air bubbles popping out from the shore which originate from the volcano at neighbouring Nisyros island.
Staying on the theme of the outdoors, Kos is known as the "Cycling" island. There are many mountain cycling trails and also a 13km cycling road starting at Faros beach and ending at Psalidi beach.
We recommend teaming Kos with an island hop to Halki - a tranquil island for total relaxation, where time has stood still and offers a slow pace, authentic Greece experience.
Spetses, Aegina and Poros
The Saronic islands of Spetses, Aegina and Poros are a fantastic island-hopping combination.
Spetses is a traditional little island with a history stretching back 10,000 years and has been able to retain a true sense of old Greece. Private cars are banned on the island, however commercial vehicles are allowed, and locals travel by motorbike or horse-drawn carriage.
Visit the cosmopolitan Old Harbour where luxurious yachts and old wooden caiques bob alongside each other, Agios Nikolaos and the main town, Dapia, the "modern" port. Agia Marina, Scholes and Zageria are just some of the beautiful beaches to be discovered on Spetses.
Aegina is the closest island to Athens and due to this is a favourite with Athenians and foreign visitors alike. The island's highlight is the famous Aphea Temple. The temple helps form an equilateral triangle with the Parthenon and the Temple of Poseidon at Sounion, the so-called "holy triangle" of the antiquity.
On the island you can discover more than 20 beaches, traditional villages, delicious cuisine and friendly people. Soak up the sun on some of Aegina's beaches, including Perdika, Souvala, Vagia and Agia Marina, a cosmopolitan destination with beach bars and restaurants. 
Lively nightspots, cafes and shops line the waterfront on Poros island, creating a distinctive atmosphere of traditional charm blending happily with modern attractions.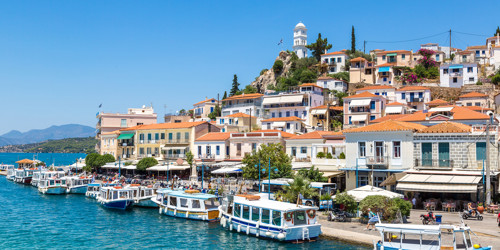 Set in crystal-clear waters between the mainland and the Peloponnese, Poros' tavernas and quaint alleys overlook yachts glistening in the marina alongside local fishing boats. The coast is blessed with beaches ranging from bustling water sports centres to secluded, peaceful bays fringed by forests with plenty of golden sands where families can relax and play.
Askeli, Love Bay and Neorio are the most popular beaches on the island.
The clock tower of Poros is the island's landmark, located on the hilltop, and surrounded by prickly pear trees and pine trees. This spot offers an amazing view of the harbour. The Archaeological Museum and the Folk Art Museum of Poros are also worth a visit.
As you can see, there are numerous Greek destinations you could visit in 2023, with island hopping being a must to experience the best of what the islands have to offer.