A fantastic journey through time starts before you get inside the Acropolis Museum.  Visitors walk over glass windows in the pavement and peer down on ancient Greek history.
For the museum is built on the slopes of The Acropolis, the most historic part of one of the most historic capital cities in the world. People have lived, worked and died here since the Bronze Age and probably before that.
It's a beautiful, bright and modern 21st century museum built to exhibit the treasures of the past, and it's become two museums under the same roof.
The upper floors display wonders from The Parthenon and other temples on the summit of The Acropolis. The ground floor has artefacts discovered in the communities and sanctuaries built outside the citadel's fortress walls.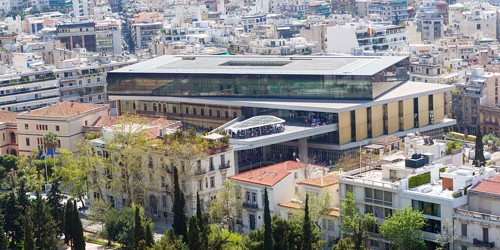 And now visitors can explore the secrets revealed when the museum was being built - homes, bathhouses, mosaics, workshops, courtyards, streets and tombs from as far back as the 4th millennium BCE. That's 6,000 years ago. 
These archaeological discoveries delayed the museum's construction. It ended up being built on huge pillars above the excavations with spaces and transparent floors enabling visitors to look down on the past. In the summer of 2019, once the archaeological work ended, the museum celebrated its 10th anniversary by opening the basement excavations to visitors.
However, the jewel in the crown remains the museum's Parthenon floor. Among the features is a remarkable reproduction of the magnificent stone frieze of a ceremonial procession held in honour of the goddess Athena.
Original marble panels from the Parthenon have been supplemented with copies of those that are now, controversially, abroad, including those in the British Museum. The amount of detail in these 2,500-year-old sculptures is remarkable.
Another delight in the museum is the view from the windows of The Acropolis and the modern city. The panoramic view is also available from the terrace café that can be visited without paying for admission to the museum (10 euros in 2019).
In the 10 years the museum has been open more than 14 million people have visited and it has been voted as one of the best in the world. It's certainly a state-of-the-art museum that appears to do its job to perfection.