Sani Resort
Enter the sun-kissed world of Sani Resort, a unique ensemble of iconic hotels in Greece that you'll return to time and time again. Each and every hotel within Sani Resort is synonymous with attention to detail, blissful luxury and treasured memories made with loved ones. All of the glorious properties are within walking distance of each other in the beautiful area of Sani but all with their own unique personality, from the sophistication of Sani Dunes to the vibrancy of Sani Beach. No matter if you're travelling with family, friends or just your significant other, there's a property to cater for your party size and whatever holiday memories you desire to create. Sani Resort is surrounded by seven km of magnificent beaches, boast a total of 23 indulgent restaurants, five unique spas and a vast choice of sports and organised activities. Add in some luxurious accommodation with all the bells and whistles and you've got yourself an unforgettable heavenly holiday in Greece.
Gastronomy
The high standard continues with the exceptional dining options across all five properties. Outstanding menus and exciting drinks lists are just the beginning, and guests can expect elegant settings to indulge their senses in. The renowned chefs at Sani Resort always select the freshest local produce to incorporate into dishes, ensuring that each guest is invited along a culinary journey that they won't forget. Organic gastronomy, as well as healthy and vegetarian choices, are imperative elements of the menus at Sani while cuisines range from authentic Japanese to the refreshing Mediterranean to innovative Italian. Many of the restaurants across the resort offers an exceptional wine list featuring some of the finest labels from Greece and beyond.
One of the best parts about going on holiday is indulging delectable culinary delights, and there's no better way to do this than with the Sani Dine Around programme. Guests staying on a half-board or full-board basis can enjoy meals at a total of 22 restaurants across Sani Resort, selecting options from the tailored Dine Around menus available with no extra charge or ordering á la carte (a meal allowance is applicable). From sushi and seafood to Italian and international, a wide array of cuisines is available across the resort, so you'll be able to sample whatever you're craving that day with ease. Reservations are required and dress codes must be followed in each restaurant.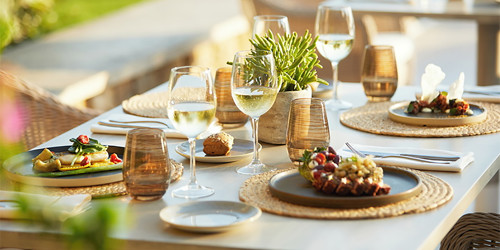 Spa & Wellness
Serene surroundings are just the beginning with the wellness options across the Sani Resort. You're invited to spoil yourself at the spa with a range of treatments that use an excellent selection of luxury aromatherapy products and are given by a team of qualified and experienced therapists. The relaxation isn't just for the adults' thanks to the junior spa treatments for guests aged 12 or over. Think manicures, pedicures, soothing neck massages and even treatments that kids can enjoy with their parents. Additional wellness facilities include steam rooms and saunas as well as a fitness centre if you like to begin your days with a workout.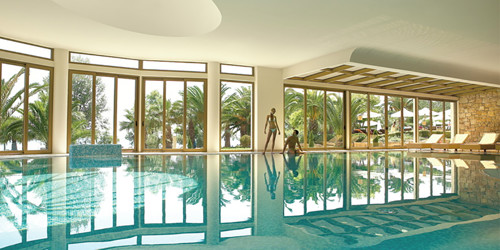 A Planet Called Sani - Fun For All Ages
It goes without saying that creating memories is one of the most special things about going on holiday, especially when travelling with children. Sani Resort has invested in the luxury of caring to ensure guests of every age are treated like nothing less than VIPs, most notably with the Little Guest concept. Each year, the Little Guests team prepares new and exciting experiences for children across all the hotels, providing not only the essentials but the truly unforgettable special touches.
Little guests cater for those aged four to twelve, providing activities such as forest walks, cooking classes, dance classes, KTM bike academies, Bear Grylls Survival Academy and even a tennis academy developed by the legendary Grand Slam-winning tennis champion, Rafael Nadal. Additionally, even those a little older will be impressed at the Teen House, designed exclusively for teenagers to make new friends and enjoy the likes of canoe tours, gaming, night hikes and cooking classes.
Little ones will love the games, colouring books and educational activities curated by our in-house Little Guests Team. Each activity is inspired by the unique natural environment found at Sani, whether it's the enchanting pine forests, the bustling Sani wetlands or miles of velvet sandy beaches, children can discover what is so unique about our little microcosm.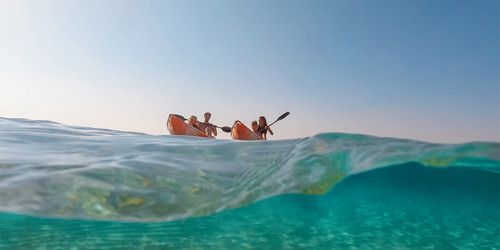 Sani Suite Collection
Just when you thought that Sani Resort couldn't get any better, let us introduce you to the Sani Suite Collection. Taking holidays to the next level, the collection allows guests to enjoy unparalleled comfort in spacious and elegant suites, accompanied by sensational upgrades. Your every need is exclusively tailored to you, from a personal concierge on hand to book your dining and experiences prior to arrival, to a complimentary private chauffeured tour of the peninsula. Other upgraded features include exclusive beach bags, in-suite check in, and in-room amenities including a pillow menu, Anne Semonin toiletries, Bulgari hangers and much more.