With direct flights from 15 UK airports, the small island of Kos is one of the most popular in Greece. Located less than 3 miles from Turkey, it's part of the Dodecanese island group and it's a great starting point if you are thinking of island-hopping around the Aegean Sea.
Don't be fooled by its size, Kos offers a wide range of activities and a diverse coastline. Around the island, you will find long sandy beaches with shallow waters ideal for kids, beach bars and big waves great for watersports as well as secluded rocky bays with excellent snorkelling. To help you choose the right area for your stay we have put together a list of the top beaches in Kos.
Tingaki Beach
A vast stretch of white sand
It's a stunning picture to see the 10 km of white sand which makes Tingaki one of the most popular, family-friendly beaches on Kos. With beautiful clear waters, the beach is a great spot for sunbathing on loungers or under parasols for shade. The beach is particularly suitable for children, as the sands have a shallow slope into the sea. Tingaki is also a windsurfing favourite, with a training centre and big waves further out. There may be flamingos, pelicans and turtles to spot at nearby Salt Lake.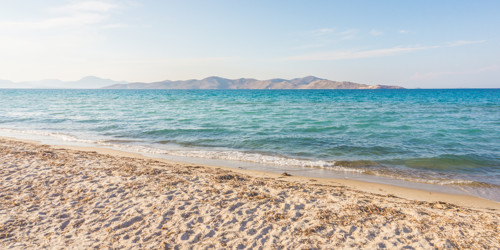 Paradise Beach
Discover the bubbles
Swimmers seeking a seaside experience with a difference love the bubbling waters of Paradise Beach, near Kamari. Also known as Bubble Beach, the shoreline has soft, dark sand, clear waters and plenty of sunbeds. It is also a good destination for watersports.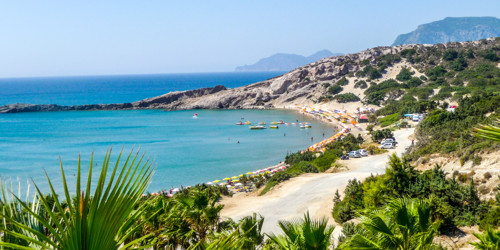 Therma Beach
An open-air spa experience
A natural, open-air spa experience is the extraordinary discovery awaiting visitors to Therma Beach, 12km from Kos Town. Surprisingly hot springs mix with seawater in a shallow pool created by a semi-circle of rocks off the shoreline, to provide a relaxing, therapeutic sensation for bathers, accompanied by a sulphurous aroma. The beach also has lovely sands, backed by sheer, dramatic cliffs. The walk down is quite steep, and facilities are limited and seasonal, but sometimes include a massage booth, and there are cafes close to the nearest parking area, a few minutes' walk away.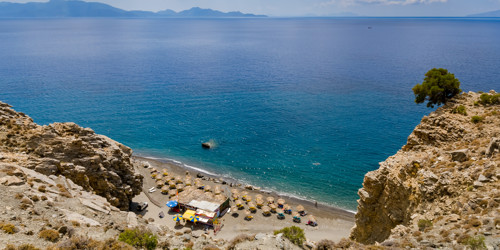 Lambi Beach
Great tavernas nearby
For those seeking the best facilities for their day by the sea, Lambi Beach, which is a comfortable walk from Kos Town, is an ideal choice. With a kilometre of white sands, leading from the port at one end, it has a good supply of sunbeds and parasols, and a range of restaurants, cafes and tavernas – some right on the beach. The town's accommodation includes luxurious five-star, adults-only hotels, the Diamond Deluxe and the Aqua Blue Boutique Hotel and Spa, and the self-catering Aegean Houses.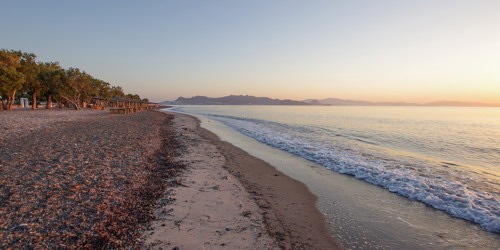 Agios Fokas
Worth the journey
Further out from Kos, reachable by bus, car, taxi or bike, the beach at Agios Fokas has pebbled and sandy stretches, and tends to be less busy than some others on the island. The facilities are good, including sun deck areas and parasols, and there is a fine selection of bars and restaurants, some serving authentic Greek dishes. It is certainly worth lingering into the evening to see one of the area's renowned, stunning sunsets over the Aegean, while the modern five-star Michelangelo Resort and Spa, which has an impressive infinity pool, is a superb base for staying close by.
Limnionas Beach
Time for some tranquillity
A peaceful, relaxing escape from busier resorts in Kos is the attraction of quiet Limnionas Beach, near Kefalos village. Set in a sheltered bay, with shimmering waters and rugged, rocky outcrops, with fishing boats passing by, it can be reached by road. There are some parasols and sun loungers and a taverna nearby. The family-owned Haralambos Studios and restaurant are within easy reach and offer well-maintained rooms with exceptional hospitality – including delicious home cooking.
Camel Beach
Look for fish in the clear blue water
Another rocky setting, but with a good sand-and-pebble shore, and a lovely view, is Camel Beach, quieter and with fewer tourist facilities than nearby Paradise Beach and reached by a winding track on the east side of Kamari. The clean, clear water is especially good for snorkelling – children will enjoy looking for fish – and sun loungers are available for hire. On the hills behind the secluded cove is a restaurant specialising in seafood. The spacious and modern three-star Sacallis Inn Beach Hotel has breathtaking views over the bay, including the idyllic island of Agios Nikolaos.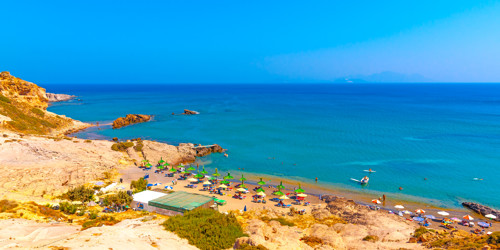 Kardamena Beach
Close to the Temple of Apollo
Popular with tourists from mainland Greece, as well as from further afield, Kardamena offers all the conveniences of a town beach, with bars and shops close at hand, heritage sites to explore such as the ruins of the Temple of Apollo, and a vibrant nightlife to enjoy after sunset. Boasting 3km of soft sands, with sunbeds and parasols, it is a classic resort for sunbathing and swimming in the crystal-clear seas.  The beachfront Akti Beach Hotel Club is ideal for families with young children.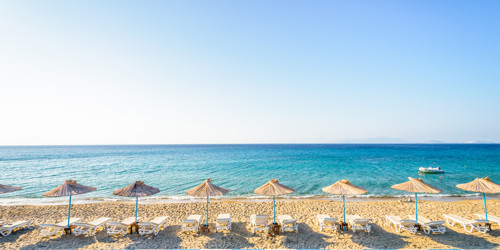 Marmari Beach
Wonderful for watersports
Lovers of watersports flock to Marmari Beach, 6km from Tingaki, where the sea winds make for great windsurfing, kitesurfing and sailing, and a surf school provides equipment and training. There are sheltered areas along the extensive white, sandy beach, which gently slopes into the sea, making it popular for families with young children. The area is bordered by dunes and trees, providing shady spots, and as well as lovely views there are good beach bars, restaurants and tavernas. Sunny Days Hotel Apartments, on the outskirts of Tingaki, offers comfortable, family-friendly accommodation, with an inviting pool, self-catering facilities and shops and restaurants within walking distance.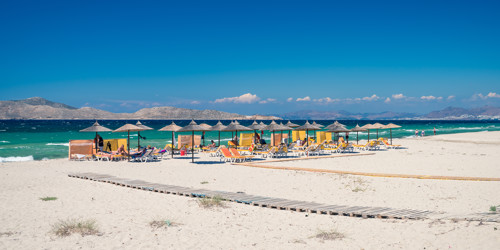 Kefalos Beach
A popular beach in Kos that doesn't feel crowded
Greek heritage is part of the charm of Kefalos, which has the ruins of a fifth-century temple on the beach, and a view of the monastery of Agios Nikolas, on the isle of Kastri. Set in a beautiful bay, with verdant surroundings, its clear waters are regarded as cooler than others around the coast of Kos, and its popularity for both sunbathing and watersports has attracted restaurants specialising in fresh seafood, as well as beachside cafes. The family-run Anthoula Hotel is nestled in the hillside overlooking the bay, 700 metres from the beach. Its rooms offer sea or mountain views, and it has its own swimming pool and garden.