Legend has it that Odysseus landed on Corfu after his return from Troy – and if the Greek hero felt in need of relaxation after his adventures, the island's wonderful beaches would have provided the perfect welcome.
From secluded coves to child-friendly sands, the Olympic Holidays' team offers inspiration for you to discover simple coastal delights or dive into lively water sports.
Many hotels have their own private beaches but don't be afraid to explore more of the island's gems! We want you to make the most of Olympic Holidays and create memories of a lifetime in the Emerald Island of Corfu.
To help you plan your upcoming holiday to Corfu, we have put together this guide to the 10 top beaches in Corfu, letting you know what you can look forward to during your visit.
Sidari
Beach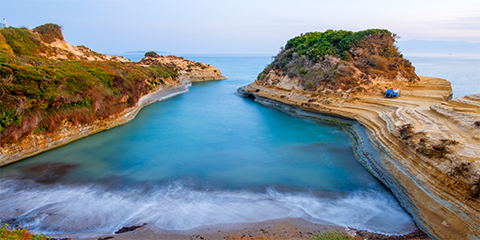 Sidari, in the north of the island, offers a wonderful choice of beach breaks, with a lengthy stretch of clean sands, attractive walks and sporting activities including water skiing, scuba diving, paragliding, and hire of pedalos and speedboats. 
Close by is the aptly-named Sunset Beach, beneath awe-inspiring cliffs in the village of Peroulades, and famed for its stunning views and offshore islets. The pathway to the shore is steep and adds to the sense of secluded escape. 
Anyone longing for a companion to share the romantic atmosphere might be advised to swim the nearby Canal D'Amour, where legend promises you'll find the love of your life.  We recommend 4 star Amour Holiday Resort and 3 star Angelina Hotel.
Best for water sp

orts

Nearby amenities:

reasonably price

d

restaurants, shops and supermarkets
Agios Georgios
Beach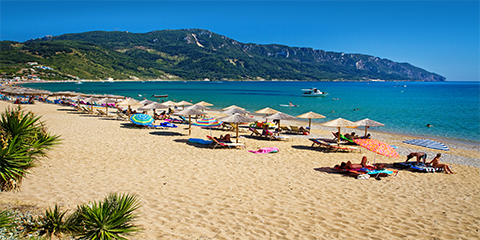 With more than 5km of golden sands, Agios Georgios inspires a safe, family-friendly atmosphere without feeling overcrowded. The beach and sand dunes are under an hour's drive from Paleokastrista where the shimmering, emerald sea is overlooked by pine-clad hillsides. For those looking to stay in Paleokastrista, Paleo Studios is a three-star + hotel that makes for a peaceful home base. The area, between Cape Arílla and Angelókastro, is also popular for windsurfing and kitesurfing, while the adjoining beach of Afiónas has a reputation for being especially clean and good for swimming.
Best for

windsurfing and swimming

Nearby amenities:

tavernas, restaurants, min

i

-markets
Halikounas
Beach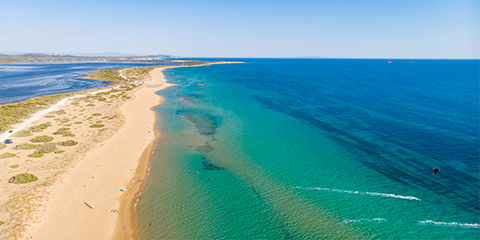 The Olympic Holidays' insiders love the sandy Halikounas Beach which stretches for 3km in one of the loveliest coastal areas of Corfu. It's about 5km from Agios Georgios or 25km from Corfu Town but worth the journey for crystalline waters where children can play all day. Do not expect to find tourist facilities at the beach but there are plenty of restaurants and bars not too far away!
Cross the road and take a walk around Lake Korission, which is home to many rare birds and enjoy views of green hills, olive groves and vineyards. When it comes to Corfu beaches, Halikounas is among the most delightful.
Best for: sunbathing and relaxing

Nearby amenities: restaurants and bars
Acharavi
Beach

and Roda

Beach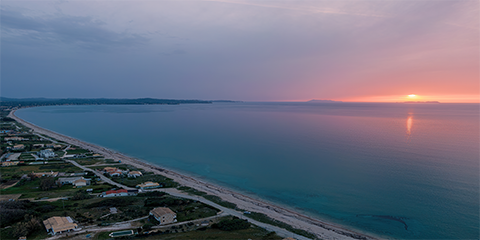 Acharavi and Roda are adjoining beaches which combine to make a long stretch on the north coast of Corfu, about 15-20 minutes from Sidari. Acharavi is pebbled but its gentle slope has made it a popular choice for families with children who love splashing in the shallow waters. It is good for snorkelling. At each end of the resort, the sands become finer and less busy, while there are plenty of bars, cafes and shops behind the beach, as well as a water park nearby.
Roda features 4km of sand and shingle, also with shallow swimming waters, as well as more secluded inlets overlooked by Mount Pantokrator. Sunbeds and parasols are available, and the choice of water sports includes boat hire and scuba diving, while guided cruises are also worth including during your sunny Corfu holiday. 
Other nearby, quiet beaches to discover include Amiros, between Acharavi and St Spyridon, or Aghios Andreas, between Roda and Sidari.
Best for: families

Nearby amenities: bars, cafes, and shops
St Spyridon
Beach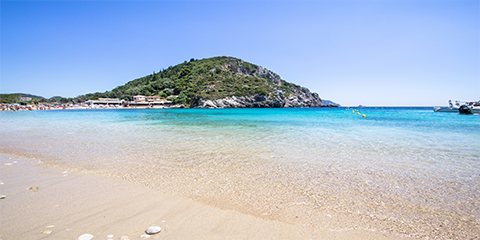 Next up on our Corfu beach guide is the family-friendly St Spyridon - a sandy beach with warm, shallow waters for young families to safely enjoy, in a beautiful setting on the north coast between Acharavi and Kassiopi. Swimmers will find the area's small coves ideal, with pedaloes and boats for hire. This picturesque resort is also popular with birdwatchers and botanists. Stay at the four-star Mareblue Beach Hotel to make the most of the beach and clear blue waters of the Ionian Sea.
Best for: boating and family fun

Nearby amenities:

all the amenities of Kass

iopi and Acharavi
Nissaki
Beach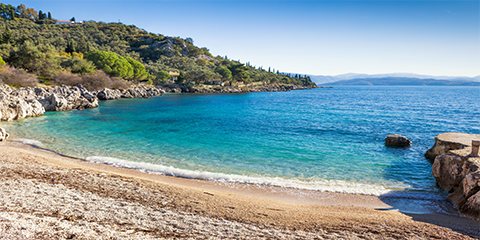 Regarded as one of the island's cleanest, most attractive beaches, Nissaki is popular for swimming and especially snorkelling, with a clear view underwater and plentiful fascinating marine life. Its secluded setting between Kassiopi and Barbati provides natural shelter, and the small, gently shelving beach, pebbled with some sand and rocky coves, allows safe bathing for youngsters. Stay in the Nissaki Sea View Apartments and the beach, tavernas and bars are a short walk away while Nissaki Beach Hotel is beside Krouzeri Beach, which is great for swimming and water sports. Make a note that being close to a small fishing port, Nissaki's restaurants take pride in serving fresh seafood.
Best for snorkelling

Nearby amenities: tavernas and bars
Gouvia
Beach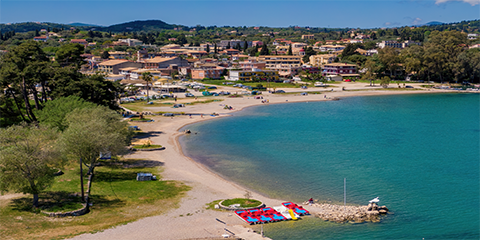 About 8km from Corfu Town, Gouvia's moon-shaped bay makes it onto this page for its remarkable sunset views, although there are plenty of peaceful coves and safe swimming plus water-based activities, including inflatable rides for children. Water skiing and wakeboarding, with lessons on a jetty, are available before taking to the waves, and there's also parasailing for those who want to try a new activity. The five-star Corfu Palace Hotel and four-star  Cavalieri Hotel are under 20 minutes' drive away if you want to catch that sunset!
Best for: families

Nearby amenities:

music bars, restaurants, and cafes
Paleokastritsa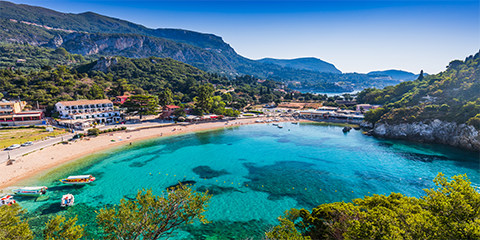 The resort village of Paleokastritsa boasts seven bays, a mixture of sand and shingle, curving along Corfu's warm north-west shores. The stunning setting makes it one of the island's busier areas, with facilities including sunbeds, pedaloes and a jetty at one end with boat hire to see the nearby caves and other coves. The shallow shoreline and clear sea make it attractive to families with young children, and there is a choice of bars and restaurants. The five-star Paleo Art Nouveau Hotel is nearby for those in search of elegant accommodation.
Best for

exploring

Nearby amenities: bars and

restaurants
Kontogialos Beach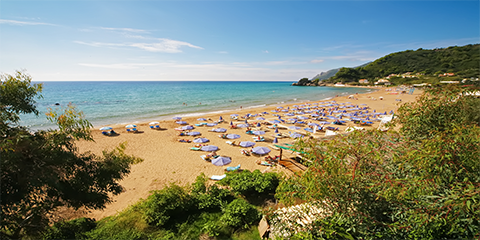 Looking for perfect sand? Enjoy direct access to Kontogialos Beach in Pelekas, when staying at Mayor Pelekas Monastery, a luxurious resort where guests can enjoy the sea views or get out on the water on a jet ski. Close to Corfu Town, the beach is popular with families because the clean, golden sands gently slope into the sea, making access along a steep, narrow road worthwhile. Snorkellers in the clear water will find plenty of sea creatures to observe in the rockier areas offshore.
Best for

marine life

Nearby amenities:

cafes, restaurants, and tavernas
Image Credit: Piotr Rokita, Dr.K., Petr Aust, Julien Maury