More holidaymakers visit Rhodes than any other Greek island ­– the miles of sandy beaches along the eastern coast are a huge draw for families looking for seaside fun and sun-worshippers dedicated to lazy days on the shores of the beautiful Aegean Sea. The southern part of the island is also a Mecca for windsurfers and kiteboarders who love the offshore breezes.
There's some Rhodes rock music royalty, too, because Pink Floyd have been regulars to Lindos since the 1970s and Hollywood legend Anthony Quinn, who played the title role in the film Zorba the Greek, has a beach named after him!
In this Rhodes beach guide, we have highlighted the 10 top beaches in Rhodes, letting you know what's available and what to look forward to during your next holiday in Rhodes.
Ialyssos Beach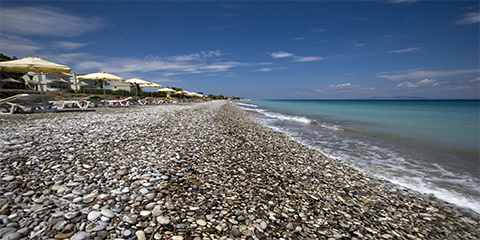 Keen surfers head for Ialyssos, where conditions are favourable enough for the resort to have hosted the European Windsurfing Championship. Only 8km from Rhodes Town, it is has a lovely beach with a mixture of sand and pebbles, and a steep slope into the waves.
Ialyssos has a range of tavernas, cafes and restaurants and a choice of excellent accommodation, including the four-star Blue Horizon Palm Beach Hotel, where facilities include more swimming fun with a large pool, water aerobics and children's pool while the four-star Labranda Blue Bay Resort has an aquapark and spa.
Best for: surfers
Nearby amenities: tavernas, cafes, and restaurants
Ixia Beach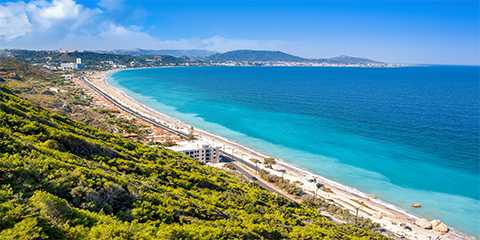 Next up on our guide to the best beaches in Rhodes is Ixia Beach. Holidaymakers seeking a lively centre should consider Ixia, on the north coast, where the beach is divided between hotel-exclusive sections and public areas with loungers and umbrellas for hire to sunbathers. The shoreline is pebbled, but the water is clear and there are plenty of water sports including jet skiing, while the sea winds attract windsurfers and kite surfers. Shops, bars and a range of restaurants are close by, and the four-star Dionysos Hotel is 200m from the beach and has beautiful large pools with bridges across to sun terraces.
Best for: water sports such as jet skiing and windsurfing
Nearby amenities: shops, bars, and restaurants
Elli Beach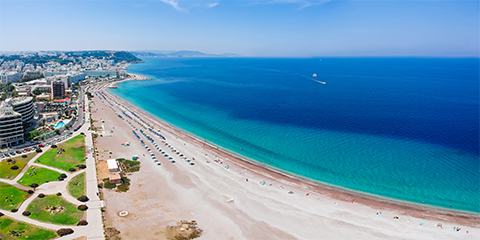 One of the closest beaches to Rhodes Town, find yourself amid a busy tourist scene in a picturesque setting with excellent amenities including watersports and volleyball, as well as shops, markets, bars and restaurants. Nearby is a large, lively beach just in front of the casino, and smaller Akti Miaouli beach, with sand and pebbles, both well supplied with sunbeds and parasols, between the sparkling sea and the town's palm trees, minarets and historic walls.
Best for sunbathing and excitement
Nearby amenities: casino, markets, and restaurants
Faliraki Beach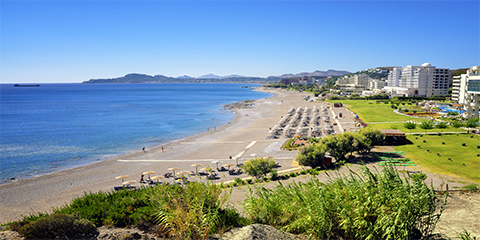 Faliraki is another resort that's ideal for both active days and sunbathing. Some 16km south of Rhodes Town, water skiing and windsurfing are among the things on offer at Faliraki Beach. The 4km golden sandy beach is well-equipped with sunbeds and parasols and there is a good selection of bars and restaurants, as well as a waterpark. A more secluded option nearby is Kathara Bay, which features a picturesque harbour for fishing boats. 
Best for: activities and sunbathing
Nearby amenities: restaurants and bars
Afandou Beach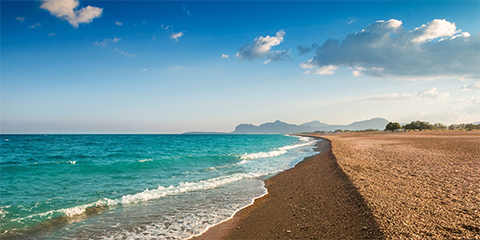 One of the largest and most popular beaches in Rhodes is Afandou, set in a sweeping bay on the east coast. Another resort especially popular for windsurfing, with a beach consisting of sand and pebbles, it has glistening, deep waters. There are plenty of bars and restaurants to choose from on Afandou Beach.
Best for: windsurfing and swimming enthusiasts
Nearby amenities: bars and restaurants
Pallas Beach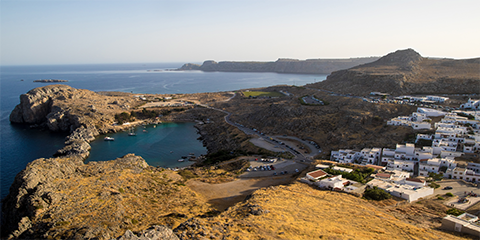 A more sheltered spot, set in a sandy bay, Pallas Beach, at Lindos, has a reputation of being particularly popular with couples – as well as members of the rock band Pink Floyd. According to the Daily Telegraph's Travel page, Pink Floyd have been visiting Lindos since the early 1970s, and David Gilmour still has a house here.
Pedalos and canoes can be hired, but otherwise, the emphasis is on relaxation in sight of a medieval fortress with a fourth-century temple, and hillsides of whitewashed homes. Sunbeds and beach umbrellas are available for hire. Close by is the bay of Agios Pavlos, which has a white chapel standing on the sand-and-pebbles beach, and rocky outcrops providing natural diving platforms. The three-star Lindos Gardens Hotel is in a quiet location, but just 15 minutes' walk from the beach, and offers attractive, open-plan studio accommodation, beautiful gardens and panoramic views.
Best for couples
Nearby amenities: restaurants and souvenir shopping
Kálathos Beach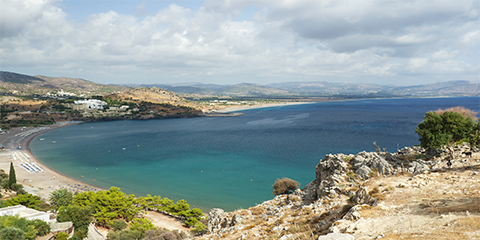 The south-east coast of Rhodes tends to be more sheltered from the sea breezes, and the 4km beach at Kálathos is in a delightful bay with sands gently sloping into the clean, glistening water. Kálathos Beach is the perfect setting for a relaxing afternoon in the sun and a quirky touch is the offer of bamboo umbrellas for hire, along with the wooden sun beds. Just 50m from the beach is the five-star Atrium Palace Thalasso Spa Resort, offering elegant, luxury villas and a sumptuous spa for well-being. Kálathos has to be a part of any beach guide to Rhodes.
Best for: a lazy day relaxing in the sun
Nearby amenities: sunbeds, cafes, and bars
Kremasti Beach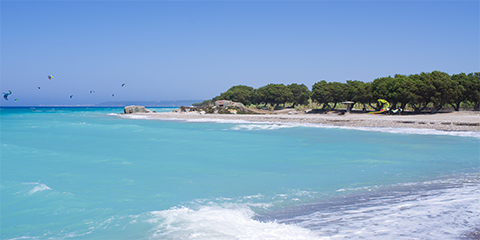 On the west coast, Kremasti has a beach with a difference, in a bustling village setting offering a good choice of tavernas and restaurants. The sand-and-pebbles shoreline is wide and extends 10km, so there is plenty of space despite the area's popularity. Sunbeds, umbrellas and water sports are available and the slope of the beach into the sea is steeper than many others on Rhodes, so it certainly favours stronger swimmers. 
Best for: keen swimmers and water sports
Nearby amenities: tavernas and restaurants
Kalithea Beach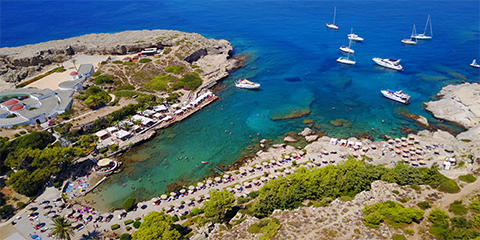 Fringed by pines and palms, and with Arabic and Italian influences in the local architecture – including renowned thermal springs with beautiful mosaic decoration – Kalithea boasts one of the most stunning beach settings in Rhodes. In Kalithea the four-star Kresten Palace Hotel has a large lagoon-style pool in extensive gardens. With Kalithea a favourite of couples and families on all-round holidays, the beach here makes the perfect venue for a chilled-out day on the sand.
Best for: families and couples
Nearby amenities: all the amenities of Kalithea village
Ladiko – Anthony Quinn Beach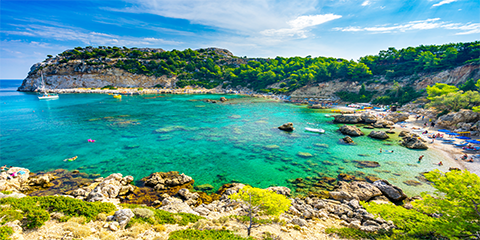 The smaller Kalithea beach at Ladiko was named in honour of actor Anthony Quinn, who played the title role in the film Zorba the Greek. However, Ladiko Beach was a setting for another of Quinn's films, the Guns of Navarone, in which he starred with David Niven and Gregory Peck. With pebbles and rocks, as well as sand, and set amid rugged hills, the beach is one of the less developed on the island but is popular for boating, and with scuba divers who enjoy exploring the sea bed. Another small beach at Ladiko is set in an attractive bay, with fine sands and facilities including sun loungers and showers. Take your pick!
Best for: boating and scuba diving
Nearby amenities: Ladiko Restaurant Beach Bar
Image credit: El Nino, Norbert Nagel, Jorge Lascar, Stephen Reed, Luigi Rosa