If you're thinking about holiday destinations, chances are you're looking for somewhere with a beautiful, clean beach that you can lounge on for hours. The Blue Flag rating system can help with that, but what is it, and what does it indicate about beach and water cleanliness? Greece has an excellent reputation for clean, beautiful beaches and proudly boasts 581 beaches with Blue Flag status. Greece was also voted second in the world for its clean beaches. As you might expect, this has enormous implications for attracting tourism. 
What is a Blue Flag Beach?
The iconic Blue Flag is a globally recognised voluntary award for beaches, marinas, and sustainable boating tourism operators. The organisation aims to provide "Pure water, clean coasts, safety and access for all." To qualify for the Blue Flag, applicants must pass assessments for a series of stringent environmental, educational, safety, and accessibility criteria and continue to maintain them for regular re-assessments.
The Blue Flag began life in French schools as an initiative for environmental awareness. Children wrote a message along with their name and the name of their local beach and put it in a plastic bottle which was then dropped in the sea by the French military. The idea was to highlight the problem of litter on beaches travelling far further than the local area.
Taking its name from this initiative, the Blue Flag programme was founded in 1987 by the Foundation for Environmental Education (FEE) in conjunction with the European Commission. It began with 244 beaches and 208 marinas from 10 nations and has expanded hugely since then. The Blue Flag organisation now grants its prestigious Blue Flag status to 5042 beaches, marinas and tourism boats across 48 countries. 
Greek Beaches are Clean and Beautiful
According to Google, Greece's beaches attract around 5,400 searches every month. This, along with 142,000 Instagram hashtags each month, makes Greece's beaches the most popular in the world. So, if you're considering Greece as a destination, how do you choose which beach to visit? With all of these Blue Flag beaches scattered across 227 inhabited islands and the mainland, picking one destination can be challenging. With that in mind, we've compiled a list of ten of the best.
Plakias Beach, Crete
Plakias Beach is situated on the south coast of Crete and is a roughly thirty-minute drive from the city of Rethymnon. Although Plakias is a small village, it has all the amenities a tourist might need, including shops, supermarkets, rental car offices and travel agencies. However, there is no bank in the village, so you should ensure you have all the cash you need.
Plakias is not somewhere you will find a lot of nightlife, so it's ideal as a quiet beachside retreat. The beach itself is one of the longest in Crete and begins at the village, from where it extends eastward. The eastern end is a nudist beach, so perhaps not suitable for families. However, there are showers across the length of this gorgeous clean beach and a few tavernas where you can get something to eat.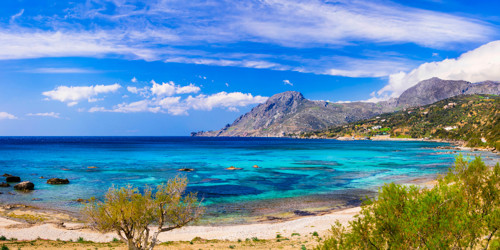 Possidi Beach, Halkidiki
Possidi Beach is well-known among the residents of nearby Kallandra for its numerous beach bars, local pork, and open fires. It's also famous on the island for its lighthouse. Constructed in  1864, the lighthouse originally stood close to the water in its early days. However, the sea has since receded, and, as sediments have accumulated, a sand stretch has developed. The colonial architecture and stunning flowering garden to its side make it a fabulous attraction to visit.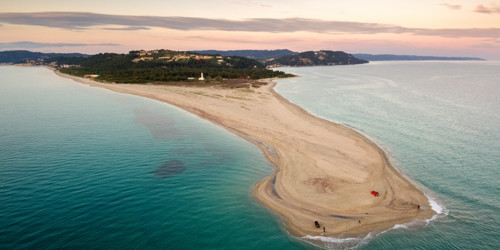 Armenistis Beach, Halkidiki
Armenistis is a quiet, sandy beach 65 km southeast of Poligiros, the capital of Halkidiki. The nearest village is Sarti, and the beach is a three-hour drive from Thessaloniki. Surrounded by beautiful pine forests, this beach is considered an excellent choice for swimming and sunbathing. The beach facilities are exceptionally well-organised, with sunbeds and umbrellas provided. The area also has one of the best camping centres in the region, which attracts huge numbers of visitors.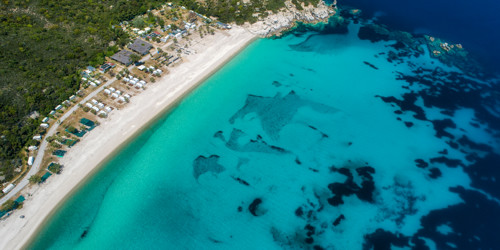 Myrtos Beach, Kefalonia
Myrtos is one of the most visited attractions in Kefalonia. Located 29 km north of Argostoli, in a beautiful area surrounded by verdant hills, Myrtos Beach has gained a worldwide reputation. It has been consistently mentioned in travel magazines as among the best beaches in Greece and the world. Myrtos Beach has received multiple awards for its clean beaches and natural beauty. Most of the beach is well-organised with sunbeds and umbrellas. However, a large part remains unspoiled, ideal for solitary walks.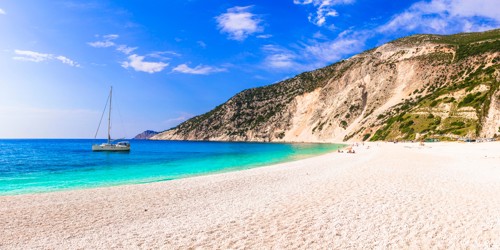 Kathisma beach, Lefkada
Close to the village of Agios Nikitas, Kathisma Beach is arguably one of the most stunning beaches on Lefkas, framed by lush vegetation of the surrounding mountains, with fine sands and sparkling turquoise waters. The beach is organised with plenty of sun beds and umbrellas. Kathisma beach is famous for its bars and it has several restaurants.  For the active, the beach is the best spot on Lefkas for paragliding.  The beach can be accessed by local buses which depart from Lefkas town.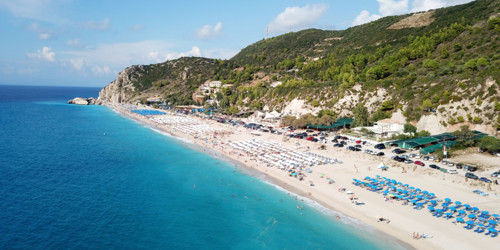 Agathopes beach, Syros
In the southwest of Syros island, close to the village resort of Posidonia , lies beautiful Agathopes beach - a stretch of sandy shores with protected sand lillies and shallow waters, ideal for families. A range of water sports are available, along with sunbeds, umbrellas and beach bars. Nearby are the islets of Strongylo and Schinonisi.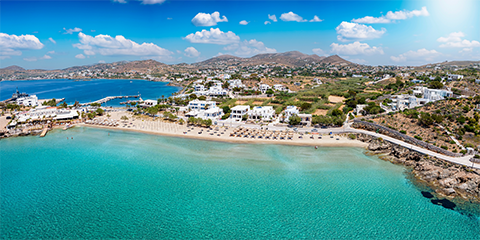 Agathopes Beach
Tsambika Beach, Rhodes
Situated on the east coast of Rhodes is idyllic Tsambika with its fine golden sands. The beach is named after the Monastery of the Virgin of Tsambika, located 340 metres up the hill. This pristine beach with its crystal clear waters stretches over 800 metres and has water sports, beach volleyball, sun loungers and umbrellas and is well served by beach bars and taverns.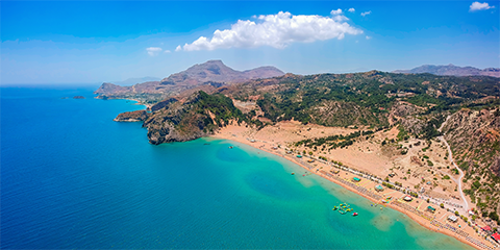 Koukounaries Beach, Skiathos
Koukounaries Beach is the most famous beach in Skiathos, so it is often very crowded. However, its reputation is well deserved, and it has been voted the most unspoiled natural beach in the Mediterranean. Its fine white sands and nearby fragrant pines give Koukounaries Beach an idyllic feel, even when busy. The beach is well-organised, offering water sports, chairs, umbrellas and beach bars, as well as the opportunity to swim in the beautiful clear waters. The area is also developed for ecotourism, financed by the Municipality and the European Union. Access is easy, with a bus connecting the beach to the capital every thirty minutes.
Galissas Beach, Syros
Galissas Beach is situated approximately 5 km from Ermoupolis, Syros' capital town and is the most popular beach resort on the island. The bay is very small, with calm, clear waters and is perfect for families with young children. The beach has picturesque golden sand with short trees providing shade at intervals should you need it. There is also plenty of accommodation near the beach, and another beach, Armeos Beach, is within walking distance along a coastal path.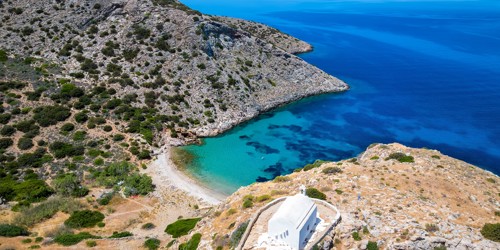 Tsilvi Beach, Zante
Tsilvi is one of the most famous beaches on Zante. This sandy beach with its shallow waters make it safe for families, whilst the lively beach bars and restaurants create a pleasant atmosphere. There are several water sports for the adventurous, including windsurfing, paragliding and water skiing. For those who wish to relax there are several sun beds and sun loungers in front of the hotels.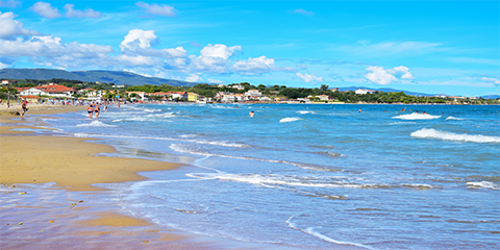 Book Your Holiday To Beautiful Greece
This list provides a great list of islands spread across the Greek islands, and each one has its different charms, attractions and amenities. So if you're thinking of choosing Greece for your holiday, at least one of these beaches will provide you with everything you want. But, of course, for the best holiday experience, you need someone who can organise your flights and book the perfect accommodation. Olympic Holidays can offer all of this and more, so book the holiday of a lifetime with us today!