There are many great reasons to visit a beach destination in winter. In some places, it will be the low season, which means fewer crowds and amazing bargains! The cooler temperatures also allow you to explore your surroundings more easily and really get under the skin of the destination.
And if that isn't enough to wet your appetite, there are a handful of destinations where sunbathing and warm waters are a reality all year-round. Therefore, if all you want to do is veg out on a sunbed sipping a cocktail on a classic beach holiday, we have some surprises in store for you! Here's our top pick of locations for a winter break, all promising clear blue skies and plenty of sunshine.
Malta
Malta's rich history and fascinating fusion of European and African culture can be traced almost everywhere, from the architecture to the food. Walk the streets of the elegant capital Valletta, a UNESCO World Heritage Site, spend a day exploring rural Gozo, Malta's idyllic sister island, or take a boat to see the magical Blue Lagoon with every shade of blue you could possibly imagine.
Don't miss the crystal clear waters and unspoilt coastline of Mellieha Bay. Located in the north of the island, it's a haven for divers and snorkelers. If you prefer to stay dry, get a taste of the local lifestyle in the charming fishing village of Mellieha.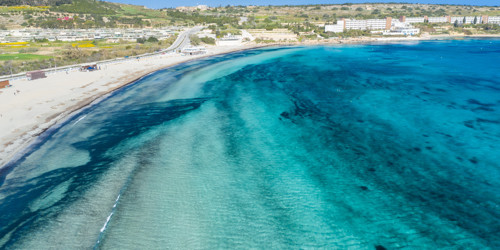 Cyprus
No crowds and year-round sunshine, make Cyprus an excellent choice for a peaceful winter getaway. Hotels and airlines often have great deals from October to March, so you can get your fill of Vitamin D for a fraction of the cost! Throughout the winter months, there's an endless succession of local festivals and events from jazz concerts to the eclectic Carnival in February.
The calm waters and soft sand make Coral Bay a very popular spot. The peaceful atmosphere of the winter months accentuates its natural beauty. Keep an eye out for an unusual copper dome near the beach, this is the entrance to the underground Maa-Palaiokastro museums displaying a small collection of archaeological artefacts.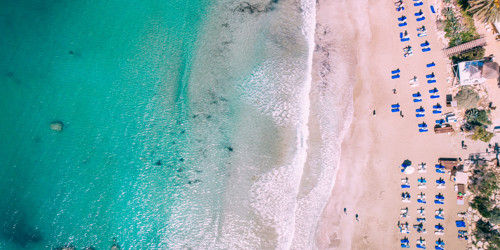 Madeira, Portugal
With an intriguing culture and vibrant cuisine, this little island off the coast of Africa is unlike anywhere else. Lush green mountains rise proudly, inviting hikers and nature lovers to explore them. If you're looking for outdoorsy activities, magnificent scenery and a friendly atmosphere, you will love Madeira.
Although the beaches aren't the top attraction on this island, there are a few great options for spending a day relaxing by the Atlantic Ocean. Sink your feet in the soft white sand in Calheta and if it's warm enough take a dip in the calm waters while you marvel at the majestic mountains behind you.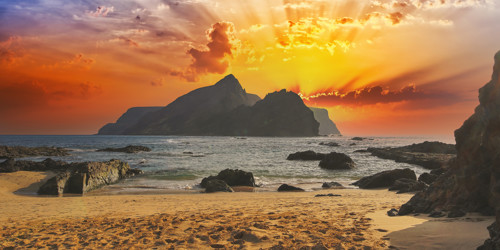 Lanzarote, Canary Islands
Lanzarote is famous for having some of the most unusual scenery in the Canaries. The surreal volcanic formations of Los Hervideros and the dusty black and red landscape of Timanfaya National Park will make you feel as though you have been transported to Mars.
With both black and white sand beaches, you will be spoilt for choice when it comes to alluring seaside spots. We recommend Playa Flamingo as it has some superb restaurants lining the promenade so you can sample some local cuisine. Make sure you try a traditional stew, each place makes its own variation.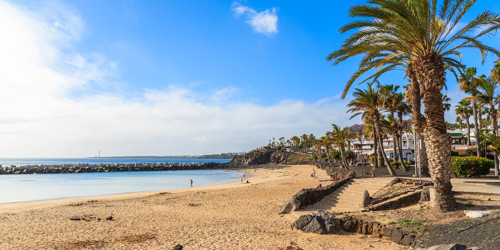 Costa Del Sol, Spain
The chaos of summer gives way to a more typically Spanish laid-back vibe, and the authentic Andalusian culture shines through. Architecture, history, flamenco dancing and exquisite local cuisine will make you want to change your tickets and extend your stay the moment you land.
We recommend visiting the stunning Playa de la Carihuela a 30 minutes' drive from Malaga. After exploring the pretty whitewashed town and boutique shops, park yourself at one of the delightful cafes along the beachfront promenade and watch life on the Costa del Sol unfold.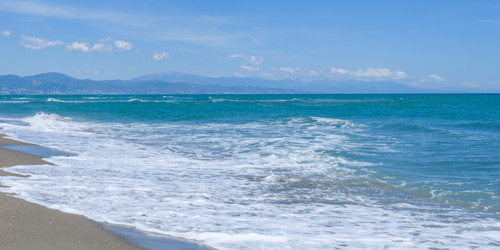 Fuerteventura, Canary Islands
With temperatures generally in the 20s year-round and idyllic palm-fringed beaches around every corner, it's no wonder the Canary Islands are such a popular choice for a winter beach holiday. Fuerteventura boasts some of the wildest landscapes and is great for outdoor adventures.
If you love vast stretches of sandy beaches, Sotovento is bound to get your heart racing. The sea is so blue it looks like a painting while sand dunes, perfectly sculpted by the wind, stretch as far as the eye can see. Soak up the sun, relax and let yourself be entertained by the windsurfers gracefully riding the waves.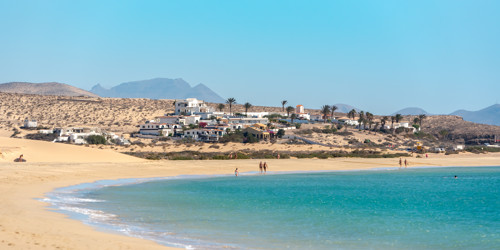 Tenerife, Canary Islands
The largest of the Canary Islands, Tenerife is covered in lush vegetation and has some jaw-dropping landscapes that are hard to beat. Between November and February, several species of migratory whales can be spotted off the coast, so we highly recommend a boat ride. A trip to Mount Teine, Spain's tallest peak is also a must.
The long golden beach of Las Teresitas is framed by magnificent green mountains, making it quite awe-inspiring. The quaint fishing village of San Andres nearby is a great place to indulge in delicious seafood dishes and get chatting with the islanders.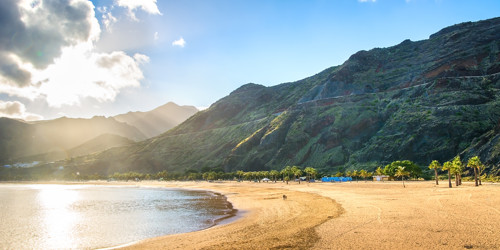 Egypt
There aren't many places where you can marvel at monuments from the ancient world one minute and swim in pristine waters teeming with colourful fish the next. The weather in Egypt is sublime in winter and with world-class beaches and enough culture to fill an ocean, it's an easy choice.
If you're looking for inspiration, we suggest staying at Sahl Hasheesh beach. The long sandy beach is to die for and the area is well set up for tourists so you will find everything you need, from water sports to golf courses. Take a day off from relaxing to discover the pyramids in nearby Hurghada and the mysteries of ancient Egypt.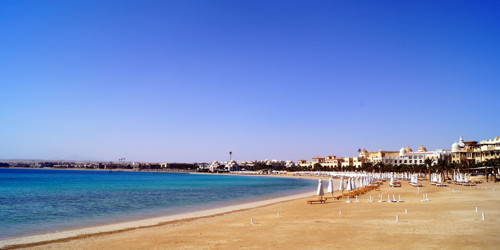 The Gambia
Experience the warmth of Gambian hospitality and learn about their vibrant African culture. Crafts markets, traditional shows and exotic wildlife are just some of the things you can enjoy. With temperatures averaging 30 degrees, you can soak up the sun rays until your heart's content and cool down with a refreshing dip in the ocean afterwards.
Palm-fringed Koto beach is the main resort strip in The Gambia, nonetheless, it's surprisingly uncrowded. They say there's nothing quite like an African sunset… watch the sky turn every shade of orange and red while you sink your feet in the sand and sip on your favourite cocktail.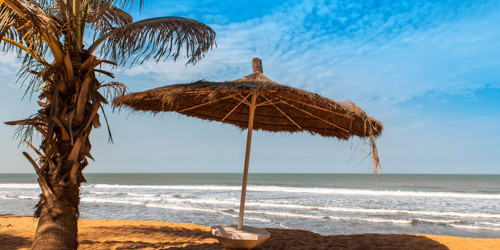 Goa has earned its place as a premier tourist destination, not just because of its beautiful beaches and fascinating historic sites, but because of the warm welcome and laid-back charm of its people. The white sands, glistening clear seas and swaying palms of the lush green landscape continue to draw holidaymakers to this uniquely enchanting region. It's a dream winter sun destination.
Goa's virtually unbroken 70kms of coastline includes such gems as Anjuna beach, Calangute beach and Colva Beach. Anjuna beach is one of the most popular beaches in Goa, particularly amongst families and water sports lovers. Come nightfall Anjuna beach is the hub for a vibrant nightlife.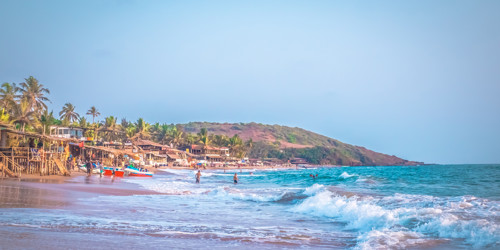 We hope we have inspired you with these sunny winter sun destinations. If you would like a hand planning your escape from the miserable winter blues, we would be delighted to help you.