We recently sent a group of our wonderful staff on a winter sun trip to Paphos where they discovered all that the delightful, historical seaside town has to offer. Read on to discover the fabulous hotels they visited, some of their favourite spots, and why Cyprus is perfect for a winter sun escape...
Cyprus is the legendary birthplace of Aphrodite, goddess of love and is an island that is blessed with year-round sunshine. Having not visited this fabulous island for a number of years, I was super excited to be leading a group of travel agents and Olympic staff in spending four days exploring the Paphos side of the island, and what a treat we all had in store for us!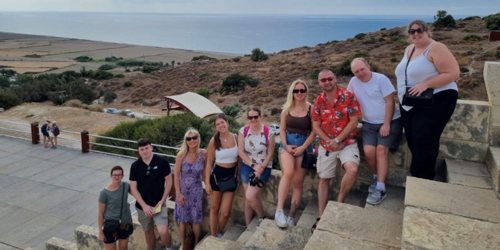 After an easy flight (just over four hours) we arrived at Paphos airport and sailed through customs, collected our luggage, and headed out to where our transfer bus was waiting. Our first two nights were spent at the 4* Constantinou Bros Athena Beach Hotel which was just a short 15 minute drive from the airport. This elegant waterfront resort is set in lovely gardens and just perfect for those seeking a luxurious beach holiday. We arrived in the evening and were treated to a fabulous late dinner and got to sample some of the delicious Cypriot wine that almost tastes of the sun!
The next morning, we were able to fully appreciate the views with the sun shining down and the sea shimmering directly in front of us, it was just stunning! We headed to breakfast where everything you could possibly want was on offer, from fresh fruit, cereals, cooked breakfast items, omelettes made to order, pancakes etc., and even a glass of chilled bucks fizz to start the day with! Feeling fully refreshed after an excellent breakfast and the most comfortable night sleep, our group gathered in the conference room of the hotel where we were given an informative presentation on Constantinou Bros hotel group followed by an inspection of the hotel and grounds
Next on our agenda was a very short walk to the neighbouring hotel, the 4* adults only Athena Royal Beach, a very stylish and modern hotel with a lovely relaxing feel which is blessed with amazing views over the Mediterranean Sea. Following a tour of this beautiful hotel, we had a short walk to the family owned 3* Pandream Hotel Apartments where we were greeted by the very charismatic and friendly owner of the property.  They really can't do enough for their guests here, and are always on hand to offer tips on the local area and suggestions of what to see and do. All of the apartments are an excellent size and perfect for families, groups and couples, the location is perfect too! Although not beach front, it is less than a five minute walk to the nearest beach, and you are within easy walking distance of lots of shops, bars, and restaurants.
Almost directly opposite sits the impressive 5* All Inclusive Olympic Lagoon Resort. The hotel is very large but never feels busy due to the amount of space both inside and out, and there's an excellent choice of dining options with six different restaurants. Very popular for weddings here too! We were treated to lunch in the main buffet restaurant and then a short walk back to the Athena Beach where we had a couple of hours to enjoy the pool and beach before getting ready to meet early evening at the 5* adults only Constantinou Bros Asimina Suites Hotel.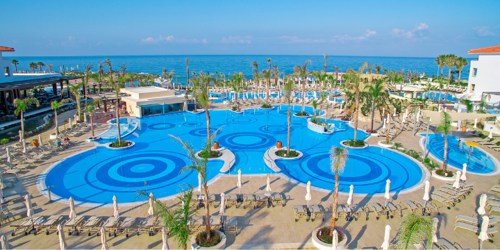 We had a tour around this all-suite, luxury boutique style hotel which offers guests spacious and well-equipped suites coupled with superb hotel facilities in an impressive beach side setting. Our evening kicked off at the new rooftop bar where we sipped champagne and had a delicious selection of homemade canapés whilst watching the sun go down. Dinner was at the exquisite Kymata restaurant where we were delighted to be seated at an outside table overlooking the sea whilst dining on the most mouth-watering cuisine.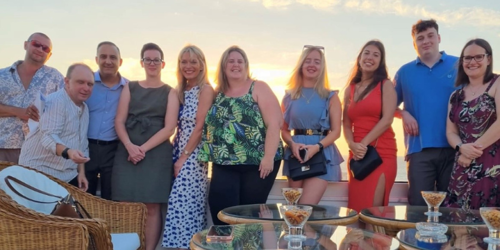 The following day was a planned excursion day hosted by the Cyprus Tourist Board, so we bid farewell to the Athena Beach and got ready to enjoy some sightseeing! First stop was a visit to the birthplace of Aphrodite followed by a tour around the Kourion archaeological site, and we then headed to Limassol to stroll around the new marina, the port and the medieval castle. Having worked up an appetite we then made our way to a very traditional Cypriot taverna which was buzzing with atmosphere and were treated to an amazing meze with lots of delicious sharing dishes including halloumi, kleftiko, souvlaki and sheftalies.
Our third night in Cyprus was a stay at the adults only 4* Leonardo Plaza Cypria Maris Beach Hotel & Spa. Located directly on the beach with a great vibe, this hotel is an excellent base to explore the surrounding area if you can tear yourself away from all that the hotel has to offer! Dinner was at the fabulous Asian restaurant followed by a great fun evening of traditional Cypriot entertainment.
The next morning we checked out and had a site inspection of the neighbouring  4* Leonardo Cypria Bay Hotel. This hotel is very family orientated offering relaxation and fun packed entertainment, an ideal choice for families, couples and groups of friends. We then hopped on our transfer bus and made our way to the Polis and Latchi area, around 50 minutes' drive from Paphos, and what a drive! The scenery en route is just stunning.
We arrived at the 5* Anassa Resort and were all blown away by this property. It is, quite simply, outstanding, and apparently a favourite amongst many celebrities - I can see why! A meze lunch was served to us overlooking the sea, with a superb selection of dishes all beautifully prepared. Next on our travels was a short drive to the 4* Akamanthea Holiday Village in Latchi where we checked in for the evening. We were greeted by the family who own and run this charming property with delightful views across the countryside and out towards the sea. This is a great base to walk around and explore this beautiful area.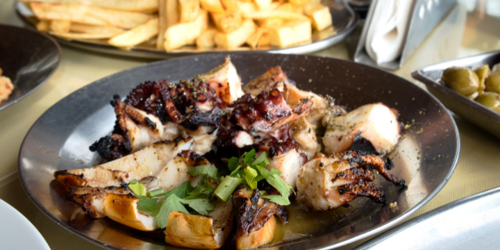 And so, after four nights staying in three different hotels, we arrive at our final day in Cyprus. We say a sad goodbye to the family at the Akamanthea Holiday Village and head back towards Paphos, again taking in the wonderful views, making our way to the 5* Coral Beach Hotel & Resort. Our flight back to the UK was late in the evening so we were lucky enough to get to spend the day at this hotel which is a super mix of luxury and tradition, boasting its own private marina and a choice of six restaurants. We had lunch and dinner at the buffet restaurant offering an array of outstanding food and the desserts. This hotel is also a firm favourite for weddings.
We certainly made the most of our long, sunny days in Cyprus! What shines through in this delightful island is the warmth and hospitality of the people, the delicious food and wine, the beautiful beaches and scenery, and the fabulous choice of accommodation on offer. Farewell Cyprus – until next time…
Where we would return to...
Sydney: I had the most amazing time with the most amazing people. I really would recommend all the hotels we visited, there is something for everyone. The food and weather is a bonus! I wouldn't have considered Cyprus before but after having been on this trip Olympic Lagoon and Leonardo Cypria Maris are definitely on my list of hotels to visit! 
Sarah: I loved the Coral Beach hotel, the whole feel of the hotel was just so fitting with the island. The Mediterranean feel throughout, the décor, the structure of the hotel, the gardens etc. really gave the hotel character. It's definitely on my bucket list to go back to with the family!