There are plenty of reasons to visit Turkey, but it is no secret that the hundreds of beautiful beaches and coves that stretch down its vast coastline are the country's star attraction.
The majestic landscapes along its shoreline combined with captivating culture, rich history and exquisite cuisine make Turkey a must visit destination.
So, if you're planning an enchanting escape to the Aegean Sea, you might be wondering where to find the best beaches in Turkey. There are not many Turkish beaches that don't live up to expectations and we have chosen 10 of our favourites. From secluded coves surrounded by lush green forests to popular resorts with long stretches of white sand, these beaches will inspire you to book an unforgettable holiday to Turkey in no time.
Icmeler Beach, Marmaris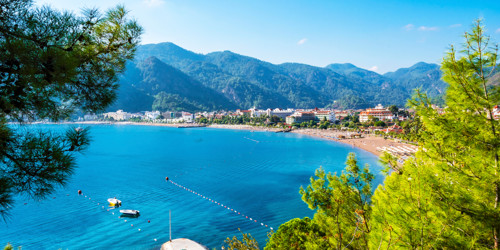 Close to the resort of Marmaris lies the spectacular sands of Icmeler Beach. Families and couples will enjoy this superb spot which used to be a small fishing village but today is a popular seaside retreat for locals and tourists alike.
Surrounded by lush forests and with a scenic backdrop, the long stretch of soft sand rarely gets crowded giving you a chance to take in the peace and quiet whilst admiring the magnificent views.
You'll find everything you need here, including a great choice of bars and restaurants. Whether you're looking for excitement or utter relaxation, Icmeler Beach provides both with its tranquil, with relaxing waves, making it ideal for sunbathing and swimming. If water sports is your thing try parasailing, jet skiing and scuba diving which are all available. There are also some excellent hiking paths in the adjacent hills, which provide some lovely views of the beach from above.
Kabak Beach, Fethiye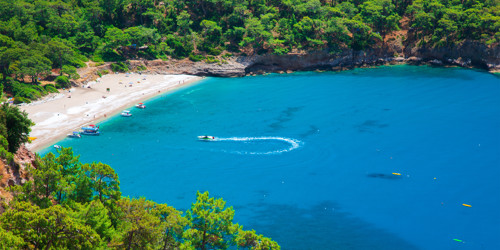 The picturesque town of Kabak lies 25km from Ölüdeniz and is blessed with having its own paradise beach. The beautiful bay that is surrounded by pine forests and mountains can only be reached by foot from the village. The 30 minute walk is definitely worth it as you reach a peaceful and serene location with amazing vistas.
You'll largely be in the company of locals on the pebbles and white beaches of Kabak Beach. There is a certain laid-back atmosphere here and you wont find many bars, restaurants or water sports. Instead visitors come to enjoy nature and for pure relaxation. Taking a dip in the cooling waters amongst Loggerhead turtles and other marine wildlife.
Blue Lagoon, Ölüdeniz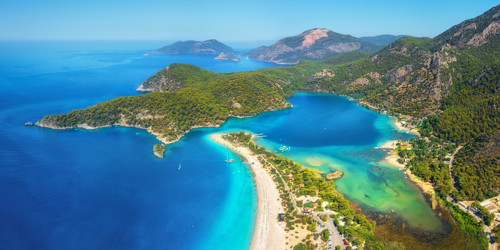 Possibly the most pictured beach in all of Turkey, the Ölüdeniz Blue Lagoon is a place of outstanding natural beauty with crystal clear blue waters and a stretch of golden sand, it's no wonder visitors are left speechless by this spectacular haven.
Surrounded by mountains and located within a protected natural park, the bay holds a unique position where the Aegean and Mediterranean seas meet. The warm and shallow waters are ideal for paddling with little ones whilst the sandy shore is perfect for sunbathing.
In recent years the Blue Lagoon has developed as a tourist spot with plenty of options for bars, restaurants and activities. For the more adventurous, one of the best ways of admiring the bay is from above by paragliding from one of the nearby mountains. For those not so good with heights, there are plenty of options including paddleboarding taking a leisurely swim.
Belek Beach, Belek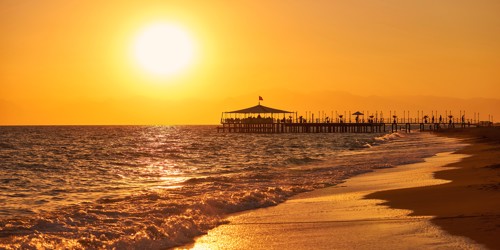 Belek is one of the most popular and attractive destinations on the Turkish Riviera, and its beach is a star attraction. A lengthy sandy stretch that runs for several kilometres and easily accessible from the hotels in the resort. Most of these hotels are all inclusive 4 and 5 star and visitors to the resort come for pure relaxation in luxurious surroundings. Fine white sand is bordered by green pines sloping down to beautiful blue waters. Most of these hotels are all inclusive 4 and 5 star and visitors to the resort come for pure relaxation in luxurious surroundings. The beach is the perfect playground for children and home to nesting sites of Loggerhead Turtles.
Volleyball, sailing, and a variety of other water activities are available on the beach, while numerous golf courses also close by. There are plenty of restaurants and bars here, as well as deck chairs for hire and a large variety of activities including riding, cycling and tennis.
Cleopatra Beach, Alanya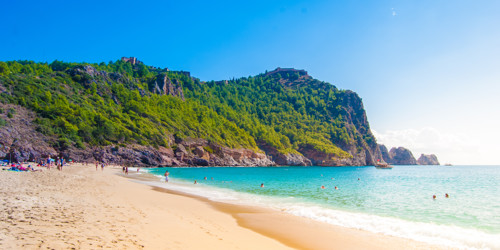 Located in the city centre of Alayna, Cleopatra Beach is one of the most popular beaches with visitors to Turkey and for good reason. Having got its name from Queen Cleopatra herself, the 2.5km stretch of sand and its dark blue waters will charm you with its majestic beauty.
This immaculately clean beach is bordered by a lovely boardwalk and all the stores, cafés, and restaurants you'll need to spend an entire day on the beach. With over two million tourists every year (not to mention the daily boat cruises), there are plenty of facilities. Cleopatra Beach's waters are warm and inviting for swimming and water sports, such as surfing and paragliding, are popular activities here.
Konyaalti beach, Antalya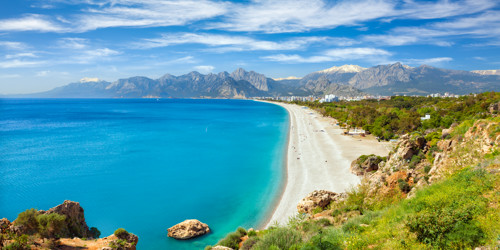 One of the main attractions in Antalya on the Mediterranean coast is Konyaalti Beach, which spans for 7 kilometres. Konyaalti Beach is great to swim in and with shaded trees, tables, booths, cafés, and restaurants, all the facilities you need are available. The Taurus mountains in the background, as well as the cliffs on each end, create a stunning setting for a day of swimming and sunbathing.
Once you are done relaxing on this fine beach, head to the city's historic district of Kaleici for something to eat and drink from one of the many great restaurants.
Turnuc Beach, Turnuc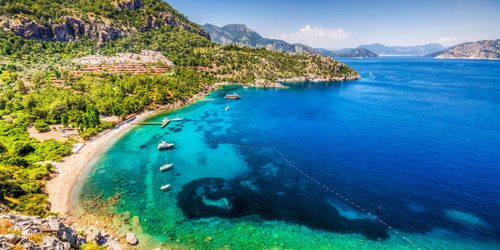 Turunc is a town on the northwest of Bozburun Peninsula where Aegean and Mediterranean regions meet. This gorgeous place is only a 30-minute drive down the coast from Marmaris, but it's a world away from its larger, livelier neighbour. Holidays here are all about relaxing in a peaceful environment with a mountain backdrop and blissful beach. The beautiful bay with its olive groves, pine forests and remarkable scenery is home to an outstanding beach.
Free sun loungers and cushions are provided, and the beach is largely surrounded by cafés and restaurants that serve beverages and meals throughout the day. The ocean is incredibly clean, and there are lots of water activities to choose from if you want to do something more than relax and listen to the waves. The beach is a popular spot for diving and snorkelling enthusiasts.
Butterfly Valley Beach, Fethyie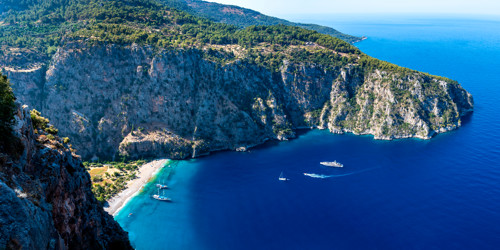 Butterfly Valley is a nature reserve in Feithyie and is the of the most delightful bays in the whole of Turkey. It is located on the western coast of the Gulf of Belceiz and is only accessible by boat. Its name comes from the beautiful Tiger Butterfly's that can be seen here in early June till late October. But almost all the other species of butterflies that are found on this coastline can be seen in Butterfly Valley.
Butterfly Valley Bay is a sandy beach with wonderful clear turquoise water that is perfect for swimming in. There is a small cade and shop where you can buy souvenirs and gifts as well as something to eat and drink.
Calis Beach, Fethyie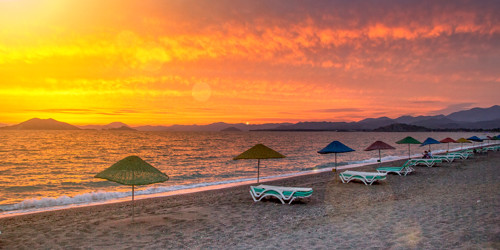 Considered to be one of the best ecological beaches in Turkey, this 5km beach offers impressive panoramic views of the various islands in the Gulf of Fethiye. You can spend hours just laying on the sand enjoying the mesmerising scenery whilst the warm Aegean Sea laps at your feet.
Sunbathing and relaxing on the beach are the most popular activities, although water sports enthusiasts can enjoy wind and kite surfing, as well as parasailing. There are several excursions and guided tours available, all of which include pick-up and drop-off at the Beach. There are several cafés and restaurants, as well as gift shops and if If you're a sports fan, we recommend stopping by Lukka Bar, which is located at the beginning of the promenade. At Calis beach you're just 10 minutes' drive from Fethiye, too, with its vibrant nightlife and historical landmarks. Calis Koca, a 20-minute walk away, is another alternative. It has five kilometres of sand and A-list appeal, having been featured in the Bond film Skyfall.
Ilica Beach, Izmir
Ilica Plaji is one more wonderful beach on the Turkey's Cesme peninsula. With the sparkling aqua blue waters of the Aegean Sea and fine white sand, you can sit back and unwind as you appreciate the splendour all around you. The beach here isn't as crowded as some of the others in the Southern Aegean and Mediterranean so you will enjoy pure tranquillity.
The shallow waters are warmed by the beaming sun making it ideal for swimming and paddling in. It is popular with people who wish to take advantage of the region's thermal springs. The water at Ilica Beach is said to have healing properties for the skin, as it is enriched with minerals that pour out of the seabed from the hot springs below.