It must be thanks to the ancient Greek gods that Kefalonia has avoided being spoiled by mass tourism. Sure, this Ionian island has busy resorts and plenty of summertime visitors, but nowhere does it ever feel crowded, even at the height of peak season. That's not because it lacks appeal - there's history, culture and beaches aplenty - but more to do with the island's sheer size and the laidback approach of the locals. And while it may not match Santorini or Mykonos in terms of cosmopolitan edge, Kefalonia's trump card is its authenticity.
Greece may be synonymous with island-hopping, but Kefalonia is one of those places where you'll find yourself wanting to stay put. As the largest in its archipelago, it certainly has ample space to explore. Its beaches span everything from pebbly coves to sandy strips, and there are mountainous peaks to discover atop the pine-clad slopes of Mount Ainos. Beyond the tourist resorts, there are proper Greek villages and towns for sampling local life and tasty cuisine. And of course, there are some must-see, only-in-Kefalonia sights and landmarks. The result? A far more varied holiday than a smaller Greek island can offer.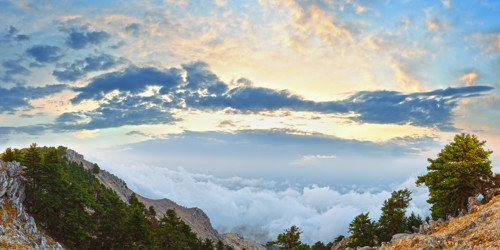 It was Louis de Bernières' Captain Corelli's Mandolin that is responsible for putting Kefalonia on a lot of people's radars. The novel (later adapted for stage and screen) is set in the period during which the island was occupied in World War 2 before being levelled by an earthquake. The legacy of that earthquake (in fact a series of tremors that struck in August 1953) is the ruined 'ghost villages' that are arguably one of Kefalonia's most compelling attractions.  
A trip to the island is incomplete without a visit to one of these crumbling villages to imagine what life was like here before it was all reclaimed by nature. Explore hillside Farsa, not far from the capital, Argostoli, but the ghost village that warrants a return visit is Old Valsamata, hidden away in the middle of the island.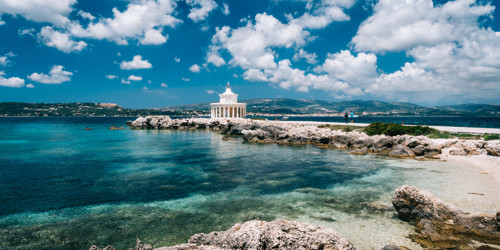 It's a wonderfully atmospheric place whose cobbled streets are overgrown with scrub, and where broken buildings and dry-stone walls peek out through creeping ivy. The only structure still standing is the church tower, cracked from top to bottom, while all around are the olive groves that provided the village its wealth. It's not particularly easy to find, so we always recommend visiting on a jeep safari to the ruins and up into Mount Ainos National Park, whose dirt roads, pine forests and wild horses are only accessible by four-wheel drive.
The earthquakes were so devastating that they damaged or destroyed all of Kefalonia's villages except one: Fiskardo, near the island's northern tip. As a result of almost entirely retaining its pretty Venetian architecture, this seaside settlement is one of the isle's most picture-perfect spots. Fiskardo is great for leisurely beach days and waterfront dining (not to mention the option of day trips by ferry to neighbouring Ithaka).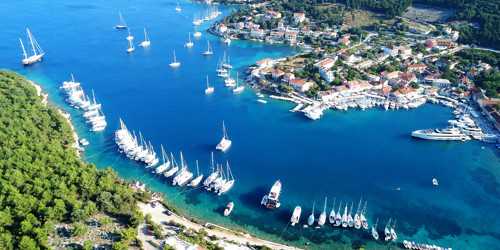 It's worth renting a car at least for a day and taking in Fiskardo on a road trip combining the main east coast highlights. Chief among these is Myrtos, Kefalonia's most famous beach, but stalactite filled Drogarati Cave (where opera legend Maria Callas once performed on account of its awesome acoustics) and underground Melissani Lake are also worth a visit. If possible, time your trip here for the middle of the day when sunlight streams in through the cave's collapsed roof, lending Melissani's waters the most incredible shades of blue.
Another day trip destination worth factoring in is Argostoli, if only to feast on delicious Greek food. The bakeries on the waterfront are brilliant for breakfasts of coffees and pastries: there's no better way to start the day than with fresh-from-the-oven spanakopita (spinach pie). At other times, hit the string of tavernas for meals overlooking the harbour. As well as typical mezedakia such as stuffed vine leaves and tzatziki, be sure to try Kefalonian meat pie, one of this isle's most famous creations.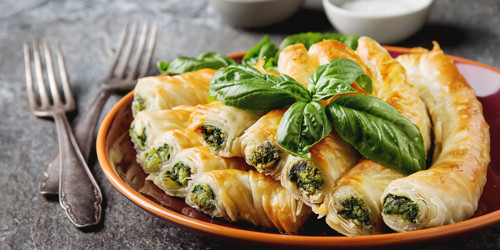 If you happen to see groups of people gathering to peer into the harbour, they'll most likely be looking at one of Argostoli's most memorable quirks. Each day, sea turtles gather here to scavenge scraps from fishing boats. They're Caretta caretta, or loggerhead turtles, with carapaces measuring more than a metre. It's incredibly special to see them swimming by in such proximity. There's no better way to meet these ancient mariners without getting wet.
The turtles that nest on some of Kefalonia's sandy beaches add an extra element of interest to lazy days on the shore. Most of the island's suitable strands are in the south and east, where you'll frequently find areas cordoned off to protect the buried eggs.
The beaches are, of course, the main reason why visitors flock to the island, and there are bays and coves to suit all preferences. Lassi, Lourdas and Skala are among the most popular sandy stretches, all of which offer sun loungers and other beach facilities.
A rental car opens up further options. One of our favourites is Antisamos, a pebbly cove flanked by forested hills that plunge down to a turquoise sea. At Spartia, the narrow beach sits beneath tall cliffs, atop which you'll find splendid Waterway restaurant: a family-run affair where dad does the fishing and mum rules the kitchen. But perhaps the most thrilling beach to visit (and we're in two minds about sharing this secret) is Koroni, a wild and hard-to-reach cove with glorious swimming and a freshwater shower that's fed by a natural spring. It's truly magical.
And what could be better than rounding off a beach day with a little wine-tasting? The go-to winery is Gentilini, where a tour of the organic vineyard culminates at a shaded pergola to sample world-class wines (or olive oil for the designated drivers) just yards from where they were made. With sun-kissed skin, salt in your hair and several glasses of good wine inside you, it won't be hard to appreciate how Kefalonia captured Louis de Bernières' imagination.