Black is the new yellow! You won't find golden stretches of sand on La Palma. Its volcanic origins mean that its beaches are made up of black or dark-grey sand.
Never mind the colour of the sand, La Palma has some lovely beaches.
Perhaps the most beautiful is remote Nogales beach, near the northern town of Puntallana, which can be great for surfers and is always worth the trek but can only be reached by a staircase on the cliffs.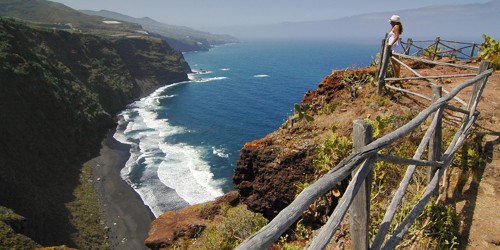 The capital, Santa Cruz de La Palma, has two clean and well-maintained beaches, a central city beach and Bajamar Beach at the southern end of the town. 
Just four kilometres from the capital are the three Blue Flag, black sand beaches of Playa de los Cancajos. There are watersports and sunbeds, but take a stroll along the boardwalk and the crowds disappear.
On the volcanic rock of the southernmost tip are the small and secluded coves of Fuencaliente Beach that are towered over by black cliffs and have two lighthouses, a modern one that works and an older one that is now a museum.
On the west coast you will find the main beaches at Puerto Naos and Puerto Tazacorte, which are ideal for sunbathing, while the stunning black reefs at Puerto Naos are perfect for snorkelling. The beachfront walkway at Puerto Naos has plenty of bars and restaurants and a hotel right by the sand.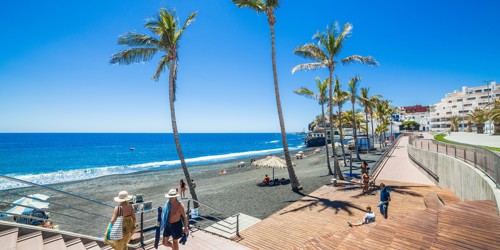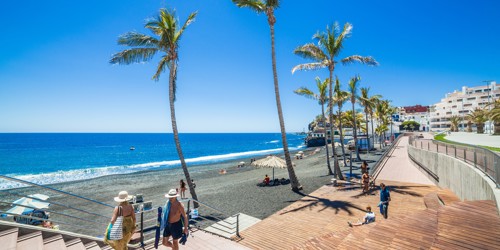 Playa de Tazacorte is a beach 500m long, with Blue Flag status. The beach boasts lifeguards, changing facilities and great accessibility, as well as a promenade with bars and restaurants resulting in a relaxed bohemian vibe. A small section of the beach is reserved as a private nudist area.
Looking for a swim with a difference? The natural sea pools at Charco Azul and La Fajana are filled with clear seawater and offer excellent swimming in calm, warm water, as well as a small café and other facilities.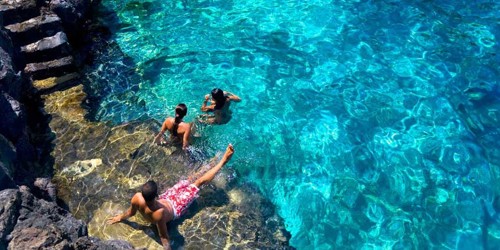 Frequently asked questions about beaches in La Palma
What is the best beach in La Palma?
Our favourite is Nogales beach, near Puntallana, reached by a staircase on the cliffs.
Why are the beaches in La Palma made up of black or dark grey sand?
This is because of volcanic origins of La Palma, but don't be put off by the colour - La Palma has some lovely beaches.
Which beaches in La Palma are near the capital Santa Cruz?
There are 2 beaches in Santa Cruz as well as 3 additional blue flag beaches within 4 km at Playa de los Cancajos.
Which is the best beach in La Palma for surfing?
We recommend Nogales beach in the northeast of La Palma.
How many Blue Flag beaches are there in La Palma?
In 2019, La Palma was awarded with 5 Blue Flag beaches.