Zante is filled with some truly breathtaking beaches and boasts golden sands, hidden coves, and picturesque views. 
Adventure seekers will find beaches such as St Nicholas and Banana Beach at Vassilikos great for watersports and scuba diving, while those aiming to relax will probably prefer quieter Gerekas and Porto Zorro. You could also choose to take a boat trip to Navagio Bay, where the hulk of a wrecked ship lies on the sands.
Take a look below to discover five of our favourite beaches in Zante.
St Nicholas Beach, Vassilikos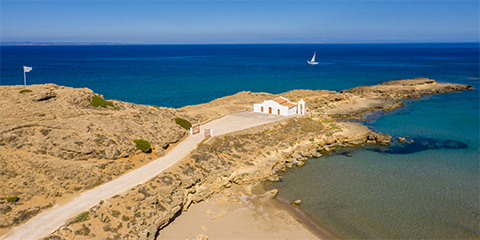 St Nicholas Beach in Vassilikos is one of the best beaches on the island for water sports and scuba diving, therefore it can get busy during high season, so early arrival is recommended! St Nicholas is a great place to relax, with a bar serving food and drinks. Couples and families all love the golden sands where there are plenty of sunbeds to hire. There is also a free bus service which runs from most of the resorts throughout the summer.  Nearby amenities include beach bars and cafes.
Banana Beach, Casa Playa, Vassilikos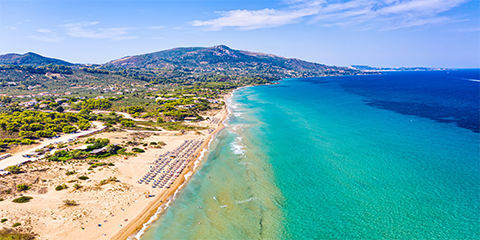 The stretch of golden sand found at Banana Beach, Casa Playa, Vassilikos is washed by shimmering waves, and bordered by rocky outcrops. It is the largest beach on the island and another great location for water sports. There are cabanas to hire as well as sunbeds and umbrellas. There is a free bus service which runs from Laganas, and there is also ample parking. Nearby amenities include restaurants, taverns and cafes.
Gerakas Beach, Gerakas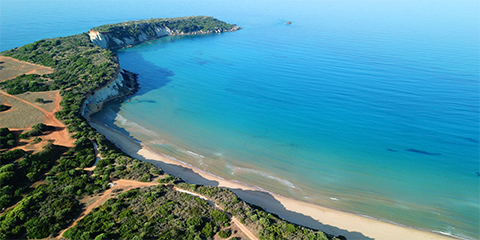 Gerakas Beach is one of Zante's most unspoilt sandy beaches, in the southern bay. It attracts turtles as well as visitors looking for a stunning setting and beautiful sunsets. As a protected marine park area, where turtles lay their eggs, access can be restricted at night and there are none of the usual tourist facilities, although there is parking away from the cove. Best for turtle spotting and sunbathing.
Porto Zoro
B

each

, Vassilikos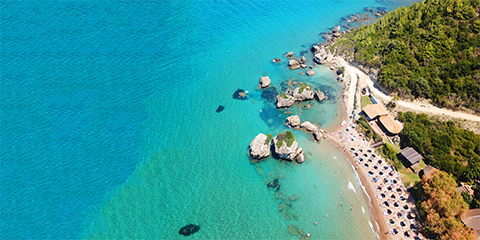 Porto Zoro Beach boasts clear waters for swimming and snorkelling which adds to the delight of a quiet, picturesque setting between Argassi and Vassilikos. The beach, set in a rocky cove, is a mixture of sand and shale and, despite its seclusion, there are sunbeds and umbrellas to hire, a beach bar, a bus service and parking.
Kalamaki Beach, Bay of Laganas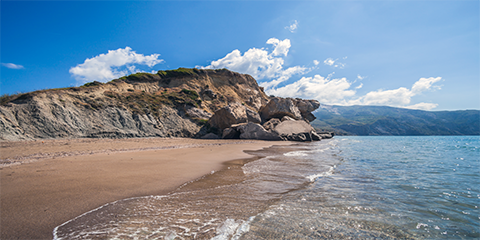 Kalamaki Beach can be found in the Bay of Laganas and is great for plane-spotting because the resort is close to Zakynthos International Airport. These long, golden sands, which lead to the neighbouring Crystal Beach, are among the most popular areas for families with young children. Facilities are limited, and there is no access after sunset and before sunrise to protect nesting turtles, but the resort centre is close by, with restaurants and bars. 
Image credit: Live Zakynthos, dronepicr,