Meeting Point Hotels
Discover endless possibilities of your dream holiday at Meeting Point Hotels. With more than 30 hotels located across a variety of sunny destinations, unforgettable memories are made at each moment as you indulge in all-inclusive beach bliss. Surf the waves of the Atlantic Ocean in Fuerteventura, explore the depth of the Red Sea in Egypt, have childish fun at the aquaparks in Greece… the list goes on and on. Hospitality with a smile is always a given at Meeting Point Hotels, and the All Inclusive and All-Inclusive Ultra concepts are on hand to ensure that you truly don't have to lift a finger from check-in to check-out. Every guest is welcomed with open arms whether you're travelling with family, friends or just your significant other, and the facilities seamlessly accommodate every guest from the delicious restaurants and bars to the swimming pools and heavenly spa treatments. The rooms are also truly exceptional, offering the ultimate home away from home in utter comfort while the amenities are both stylishly modern and designed with convenience in mind. Nothing is too much at Meeting Point Hotels no matter which destination you're visiting – one step through the front doors and you'll want to stay forever.
Gastronomy
Going hungry is not an option at Meeting Point Hotels thanks to the exceptional culinary offerings available at each property. Thanks to the All Inclusive and the All-Inclusive Ultra options available at the hotels, you can get the ultimate peace of mind knowing that all of your drinks, snacks and meals are taken care of throughout your stay. There are multiple eateries to ensure you have plenty of variety, ranging from buffet-style at the main restaurant in a casual atmosphere to speciality cuisine restaurants including the likes of Greek, Italian and Moroccan which is positive to tantalise your taste buds. Additionally, all the hotels and resorts feature international live cooking stations. At the bars, expert mixologists await to blow you away with their creations, perfect for cocktail lovers who want to try something new or stick to their old favourites. Most hotels also have a bar by the pool or on the beach for easy access to your favourite tipple as you soak up the rays.
Families
Families are treated like royalty at Meeting Point Hotels to ensure that both adults and children depart their holiday with cherished, life-long memories. LABRANDA Blue Bay, LABRANDA Marine Aqua Park and LABRANDA Sandy Beach boast incredible family-friendly facilities that will educate and entertain children of all ages, keeping them occupied throughout the days when parents are craving alone time. The stellar entertainment programme led by the excellent staff ensures that the kids' club is filled with fun activities, and there is also a games room on hand. LABRANDA Marine Aqua Park, as the name suggests, has its very own on-site waterpark with four swimming pools and five different waterslides, perfect for kids who can't pull themselves away from the poolside.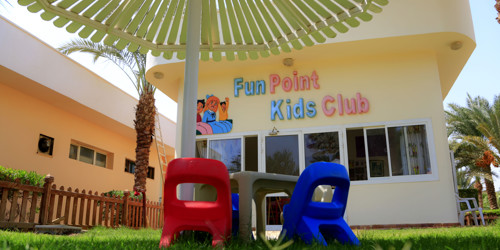 Waterpark
What's better than having an exciting waterpark on the premises of your hotel? Thrills and spills await every guest at Meeting Point Hotels, perfect for families travelling with children or teenagers. The aquapark complexes are located in the centre of the properties in LABRANDA Marine Aquapark and LABRANDA Blue Bay, featuring several swimming pools with various slides and attractions. The younger ones will adore the children's pool with two showering mushrooms, and the pirate-themed splash comes complete with water curtains and mini slides (accessible according to height requirements). At LABRANDA Marine Aquapark, the Poseidon Adventure Wave Pool is one of the main attractions, a large swimming pool with waves as high as 1.5 metres that occur every hour from 10am to 6pm lasting 15 minutes. The swirl slide and the kamikaze slide are also popular among the older kids and all the while, the adults can laze by the main pool knowing their family is entertained and creating incredible holiday memories.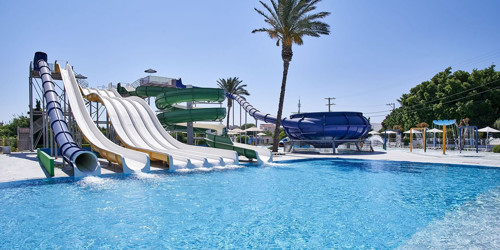 Adults Only
Sometimes, there's nothing that can beat escaping the stresses of daily life and no one knows this better than Meeting Point Hotels. Indulge in some peace and quiet with a trip to KAIRABA Mythos Palace or KAIRABA Sandy Villas, two exceptional five-star adults-only resorts in Corfu that tick every box when it comes to a heavenly getaway. Premium accommodation types come complete with breath-taking views and standout amenities, with some options even featuring a private plunge pool. Have every need taken care of with the ultra-all-inclusive services available, which ensures every need is met with ease thanks to the kind and hospitable staff. When you're not relaxing by the pool and enjoying the sunshine, unwind with a sublime pampering session at the spa from refreshing facials to rejuvenating massages. End the day with a drink at the bar before a delectable meal at one of the on-site restaurants and repeat until it is, sadly, time to depart from your Grecian adventure.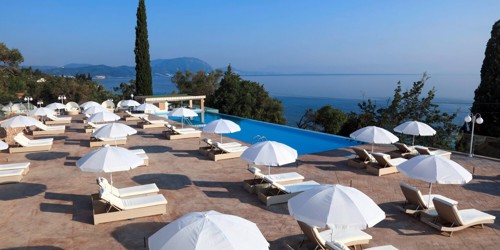 Wellness
Relaxation, revitalisation and rejuvenation are all on the cards with a stay at Meeting Point Hotels. The brand recognises the importance of providing guests with holistic holidays thus created La Brise Spa, a wellness haven that was created to bring balance the mind and body by taking them on an invigorating journey of the senses. The spa has been inspired from the breeze of life and the Mediterranean landscape, and guess can indulge in the likes of a Turkish hammam experience, facials, body treatments, massages, a beauty centre and a nail salon.